And so it begins…
April 14, 2011 | 7:53 pm
It all boils down to an equation, apparantly. I had heard that scientists one day hope to solve the equation of life, the universe and everything, by neatly summerising our whole existence in a string of numbers and letters. But apparently, it's already been done for cyclists.
And it's very simple. The equation b=n+1, where:
b = Number of bikes required
n = Number of bikes owned
Or so Phill said this afternoon on his blog.
Essentially, you can never have enough bikes!
Well, this was part of the truth behind my post last week and the reason I bought a new frame, for a type of bike I've never had before – a cyclo-cross bike!
And it turned up yesterday.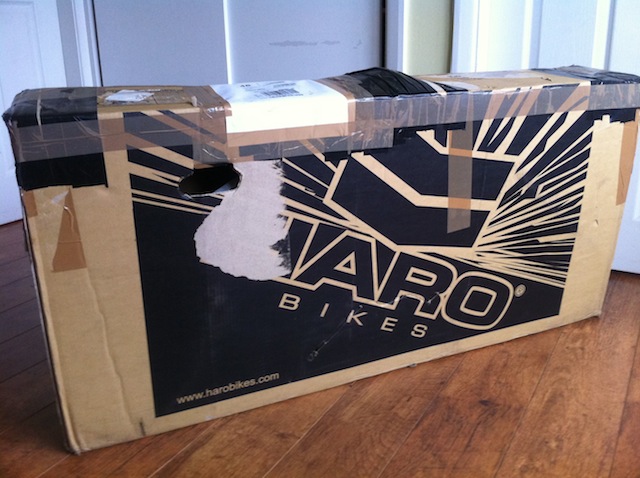 It was well packaged.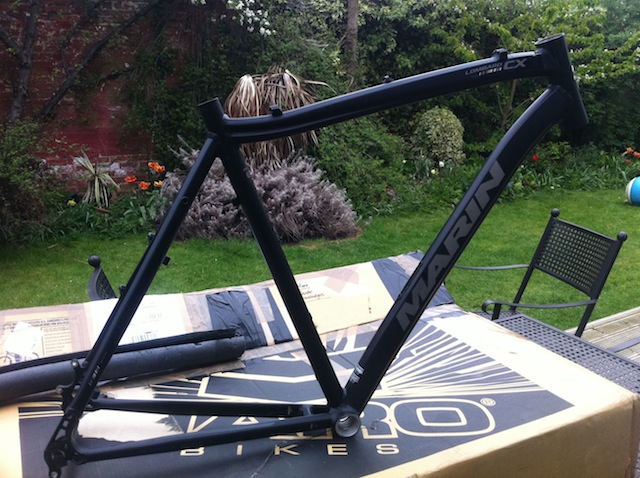 I gave it a quick look at the garden…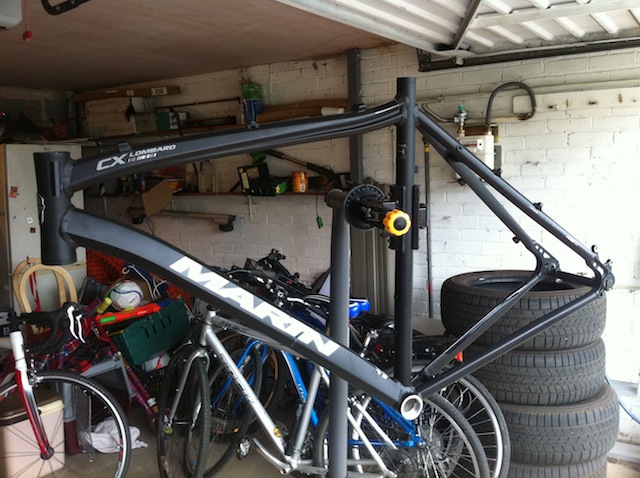 …before moving it to the garage.
From now on known as "The Marin", it is now safely installed in my maintenance stand, ready for some love and attention, and a shed load of parts. Which leads me to the next part of my self inflicted challenge – the rules.
As I bought the frame on eBay, and because I'm on a very tight budget (ie I can't really afford to do this in the first place!!), I think it's only right that all the parts come from eBay (or at least are second hand).
So in the long term, I will try and get a full groupset for the Marin from eBay, probably bit by bit.
In the mean time, however, as I'd like to get the bike up and running quite quickly, I shall be stripping down my hybrid and seeing how many of those parts will suffice. They are second hand after all, but I don't want the garage to be one bike light for too long, and hope to get her back on the road soon.
Obviously, I will be keeping you updated as the project progresses. This is a first for me. My bike maintenance skills to date run to changing the seat height on my childrens bike and tentioning the brakes. So I will be learning as I go along.
I'd be interested in hearing from anyone who's done this sort of thing themselves. Please feel free to tell me where I am going wrong, and share your experiences.
Here goes…
Posted by Gareth