DIY Bike Build update
April 29, 2011 | 8:06 am
A quick update on how the bike build of the Marin is going.
The short answer is 'not very well'.
I've transferred the bottom bracket from my hybrid, which proved quite easy. The next job was then forks and headset, which is where we have ground to a halt.
The forks and headset from the hybrid don't fit. The headset is a basic cup type (not sure of the proper name) and not one of the newer integrated types. So I tripped off to my LBS and spent £30 on a new FSA headset. Nice looking bit of kit and fits the Marin headtube perfectly, but the forks still don't fit. The steerer tube has a thread on it for the older style locking nuts, so doesn't work with the new headset.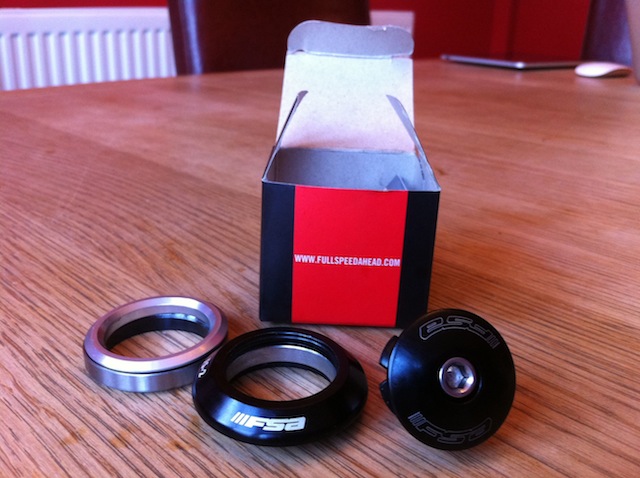 This project was in part to see if I can source and build a bike purely from 2nd hand parts from eBay, and that hasn't worked either. I didn't know about the differences between the new integrated headset's and my old headset until I went through it with a guy at my LBS. He was really helpful and knowledgeable, so I felt bad about taking all that info, only to troop off to eBay and buy the part from someone else.
I have also found that I can't use the brakes, wheels or front derailleur from the Hybrid, more of which another time!
Overall then – a complete fail! Well, not quite. I have learned loads in a short space of time. I am now back on eBay looking for forks that will fit, along with some of the other components.
It's a good job I'm not in a rush! Well, not yet, anyway!
Posted by Gareth