Dexcom Sensor no 2
January 25, 2012 | 7:25 pm
Well, the second Dexcom sensor failed on Samuel this afternoon.
The first one lasted 18 days. The second 19 days. I can't argue with that, given they're only guaranteed for 7 days!
I doubt we will keep that average up.
Over the life of the second sensor, I kept notes from day to day, because it doesn't always work 100% of the time. My log notes (for the really bored) are listed at the end of this
In summary, it worked flawlessly for the first 10 days then would come up with the odd error every other day or so. I think we also noticed after that point that the accuracy fell off a little – but not much. Even this morning (Day 19), he woke up with the Dexcom saying he was 7.3 and the blood test reporting him at 6.3.
I was particularly pleased that we managed to safely negotiate two weeks of swimming lessons (an hour a week on Friday nights) and keep the sensor adhered to him, with a combination of Opsite Flexigrid cut into strips and Hollister Medical adhesive spray.
It finally failed this afternoon when Samuel complained of a little pain at the site. When Nikki took it off, it was bent! No wonder it was hurting him and had failed!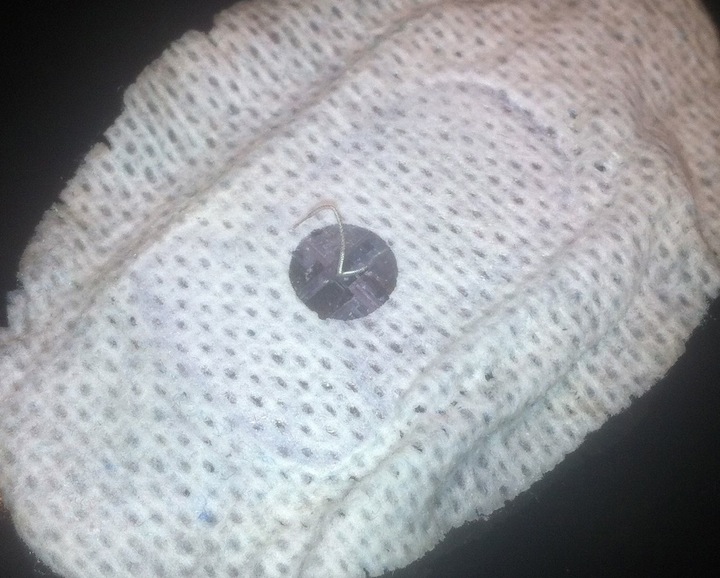 Sensor log notes:
– ??? came up on Day 12 we stopped then started sensor 2 hours later; Used new Hollister Medical adhesive before swimming on Day 14, worked well when combined with opsite
– ??? came up on Sat morning (Day 15) put in a Bg and it re-acquired about 15 mins later without need to stop/start sensor.
– ??? came up on Sat evening but we just stop/started it then it worked again three hours later.
– Sun morning (Day 16) and he is low 3.8 with Dexcom reading 2.8, so accuracy may be going off.
– ??? came up after he went high in church stop/started it at 12.30pm and it came back about 3pm. By 5.15pm it was reading 8.3 and rising when he was actually 4.2 and feeling a bit low, he was low half an hour later (3.8) and took a while at dinner to come back. By 9pm he'd come back up, although the Dexcom went the other way – reading 14.9 when he was actually 10.3. Applied a correction but the Dexcom lost connection.
– Kept running well until lunch time on Wed 25th when Samuel said the site was hurting a bit and the sensor failed. He tried to stop/start it but it came up with failed. When we took it out, it was very bent.
Posted by Gareth