Dexcom's and Basal Rates
January 16, 2012 | 8:05 pm
It's hard to believe as it's flown so fast but Samuel has been on his Dexcom CGM for 4 weeks already!
We've been threatening to do it for the last few days and finally got round to looking at the data with a view to changing his basal rates.
This was prompted by our worst night in ages last night. Sam had climbed to a Bg of 17 by 2am this morning, even though we gave him a correction before he went to bed. We ended up giving him a correction with the pen for the first time in over a year. I just wasn't confident that the corrections given on the pump earlier in the evening were working, and I didn't want to wake Sam to have to check and perhaps re-do his pump line and infusion site. By the time, I'd come back upstairs with the pen though Sam was awake, so we gave the correction on the pen then checked the line anyway.
Of course, having not used the pen for so long, I wasn't sure how he'd react, so checked him again at 3.30am (he was down to 11.7) and at 5am. By this time, he'd crashed to 3.9 – Hypo!!! We ended up giving him orange juice & GlucoJuice but he stayed low (between 3 & 4) till after breakfast at 8am.
Back to the basal rates…
The hourly averages for the first two weeks are shown here.


And can be compared against the second two weeks here:


The first thing I noticed is how high Sam went on a couple of occations over Christmas – this was the trifling matter of a Christmas trifle!! Sorry, couldn't resist!
The second and most important thing is how he climbs steadily in the late evening from about 8pm and stays between 8 & 10 until 6am. This is not data that we had before the Dexcom, as we would not do enough tests at this time of night (for obvious reasons).
Based on this new data, I have the confidence to up Samuel's basal levels at night a little and reduce them during the day, whilst he is at school. The new rates are: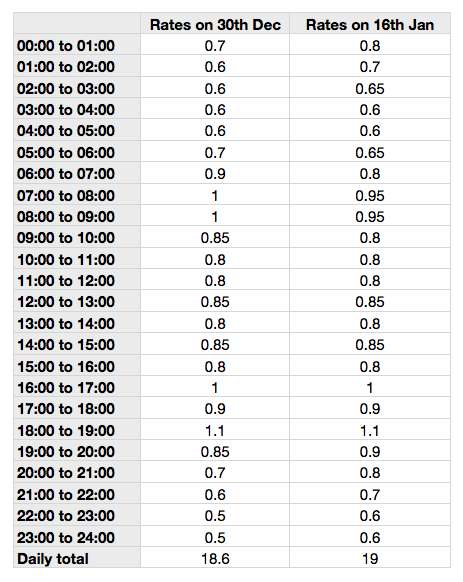 Let's see what difference, if any it makes!
Posted by Gareth