Clumber Park Duathlon 2011 – done!
March 5, 2011 | 5:28 pm
I did it. It took me 1hr 21mins 49secs. That compares to 1hr 28mins 22secs from last year. Nearly 7 minutes quicker.
I nearly didn't though.
I remember last year after the event, I was standing in the queue to get my bike back and listening to two blokes behind me, talking about how it went for them. One guy asked if he paced himself well over the distance. The other bloke replied something along the lines of "I don't really ever pace myself, I just go balls out, from the start!"
Cool!
At that point, I had just completed my second ever event, so was pleased to have got round. But this year, I decided to use my fellow competitors advice and just go "Balls out!"
So this year, my first 5K was actually the fastest time I've ever done for that distance. Not just in a triathlon or duathlon. I've not run 5K that fast, even when I was paced last week by my mate Tim the marathon runner!!!
My plan after that was to then recover on the bike, then go for it at the end. About 6K (4 miles) into the 20K ride though, I started cramping really badly in my calves. Every time I came to a downhill bit, I was freewheeling and trying to stretch them. At the same time as trying to take it easier on the uphill bits!!
I started to focus on just making it round and thought I'd ruined my race, but after about 11K (7 miles), they started to improve. I was well shocked when I got off the bike – I was ahead of last years time.
The last run was pretty hard too because of my calves but I also managed to knock that down a bit from last year.
I still need to work on transitions, which I am painfully slow at. But overall, well pleased.
Samuel, Nicky and the girls came to support me. Which was great. And Samuel took a few piccies.
Well, 93 to be precise. Too many to post here, I'm afraid. And to be honest, who wants to see a middle aged slighlty overweight plodder covered in lycra? Trust me, you don't!
These are my exact times, posted here with last years breakdown too, for comparision.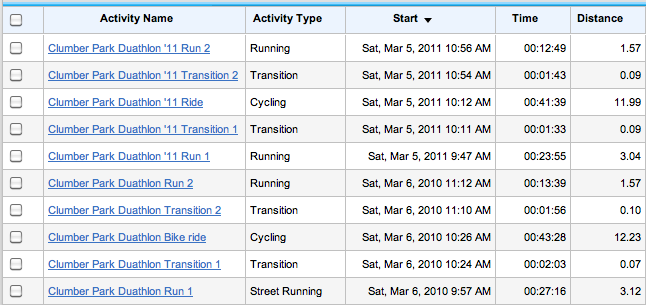 Posted by Gareth