Pizza, Pasta and Pedaling
October 10, 2014 | 5:52 pm
Eroica is the Italian word for heroes or heroic. L'Eroica therefore means 'The heroes' or 'The heroic'.
I have now come to understand why the bike ride I did over the weekend is so called. There were so many heroes out on the 'Strada Bianchi' of Tuscany tackling the small matter of 130 miles on a vintage bicycle.
Three of them travelled from Tickhill, members of Tickhill Vélo Club already, and now members of another club – those who've completed the 'Full Distance L'Eroica'
We set off early on Thursday morning, classic bikes packed carefully in my van, for the two day road trip that would see us arrive in the small village of Radda in Chianti. The trip down involved a stay over in a motel in Mulhouse, near the France/Switzerland border on the Thursday night, then we were up early on the Friday morning to drive through Switzerland and into Italy. We were up so early in fact that the hotel restaurant hadn't started serving breakfast. Before we knew it, we were looking at the mist covering the mountains then negotiating tunnel after tunnel, including one that 19km long! It was just after 11am that we crossed over into Italy for our first stop and some breakfast. What to have for breakfast in Italy… Well, pizza of course!!!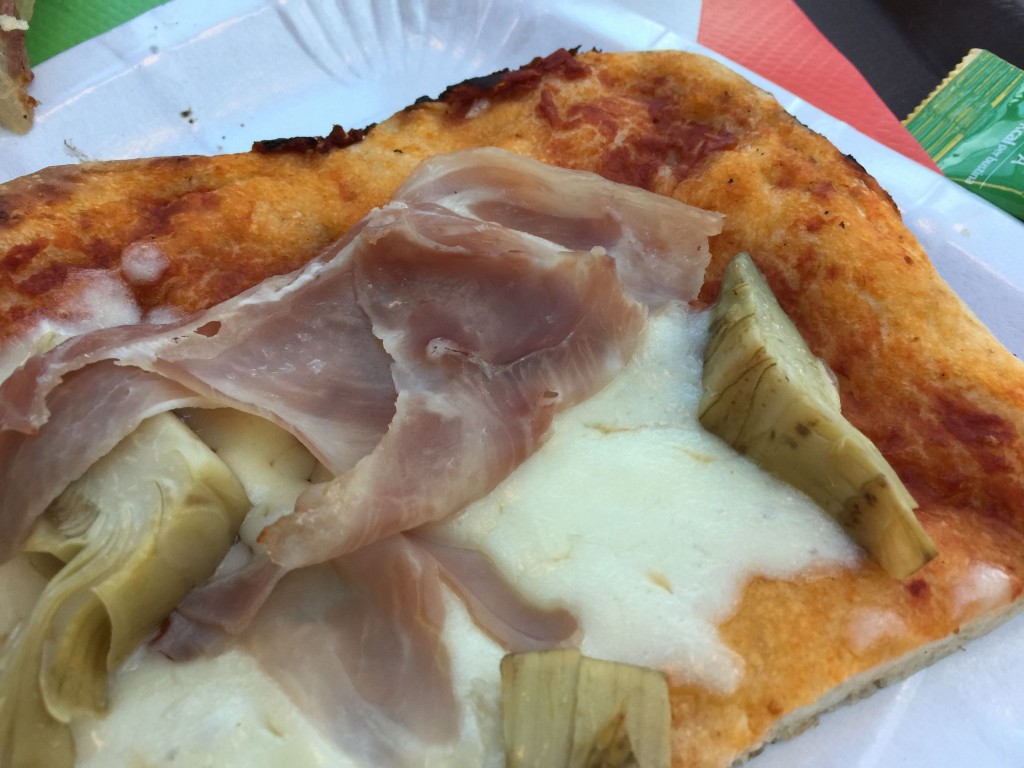 Our accommodation was just outside the village, Castelvecchi, a working vineyard and winery that also doubled as a hotel.
Given the ride was on the Sunday, why arrive on the Friday, I hear you ask. Well, L'Eroica is also a festival of all things vintage and cycling. On the Saturday, the whole village of Gaiole in Chianti throngs with stall holders and cyclists buying and selling all manner of classic bikes, the spares they require for maintaining them and the apparel used whilst cycling. Its a huge subculture and L'Eroica is the 'Glastonbury' of vintage cycling with thousands descending on this small Tuscan village every year. Now in its 17th year, its grown hugely to the point where there is a permanent shop in the village selling L'Eroica branded goods for the tourists.
To say that I liked the place we were staying at is something of an understatement. A working farm and vineyard with its own cellars! I've already booked to go back next year with Nikki and the children!
A weekend in Italy is always going to be accompanied with great food, and we started as we meant to go on with the Friday evening meal – our reception meal at 'Le Contrade'. We got the menu email out to us beforehand, but that didn't do justice to what was served.
– Antipasto toscano
– Lasagna
– Roast Pork with vegetables
– Desert
Instead, I'll let the pictures do the talking:
Saturday morning arrived and we headed into the village of Gaiole on our bikes, all resplendent in our Tickhill Vélo gear. Not before a spot of bike maintenance – an hour and a half no less! Richard went to put some more air in his tyres only to over inflate one so it blew. He took the wheel out to repair the puncture and the next thing we know, its another hour before all the gears are back up and aligned again for use! I don't think they'd heard of quick release hubs in 1959.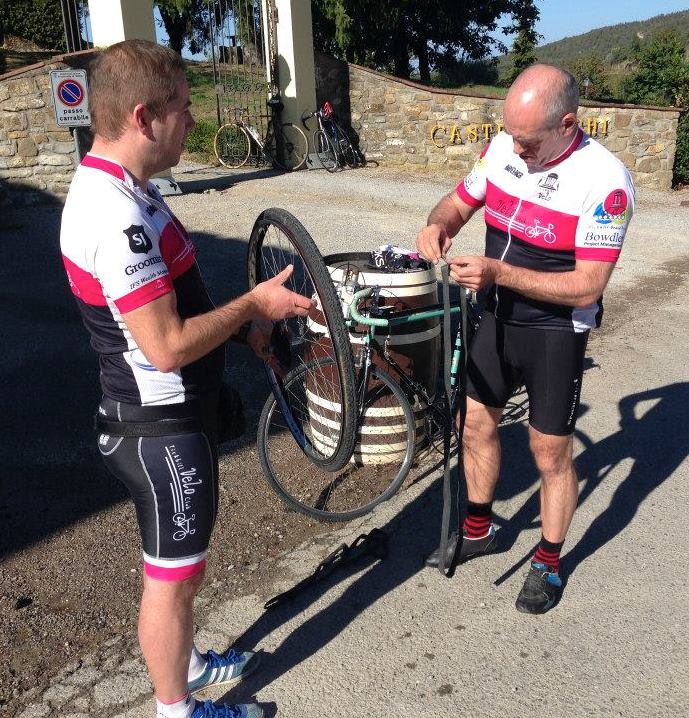 When we finally arrived, we met up with Marco from Gusto Cycling. He was the man who'd arranged our tickets, accommodation etc, and he had the important registration details with our bike and jersey numbers, and most importantly, our race cards. Then it was time for a look around all the stalls.The number of people showing off their wonderfully restored classic bikes (and selling them) was breathtaking. Only matched by the number of traders selling old bike parts for enthusiasts looking for the 'original' parts and for which modern copies just won't do! Martin was looking to see if he could find a classic Casati – a vintage bike to go with the two modern ones he has at home. Richard was hoping to find a double water bottle cage that would be more secure than his current one. I was just admiring all the steel and chrome – and there was lots to look at!
L'Eroica is not only a festival of cycling but also the culture of Tuscany – a huge part of which is their food and wine. Centre stage in all of this is the Chianti Classico wine they are so rightly proud of. Had we not got such an early start the next day, we could have spent €5 on a tasting glass and worked our way through all the regions different wines…. One for next year perhaps!
We did take the opportunity to sample some of the local foods on offer though. My favourites being the Pasta Ragu and a bowl of Tuscan Beans.
We had another lovely meal on the Saturday night back at the hotel, as we tried to carb load for the big ride the next day! Oh no.. more pictures of food..! What about some cycling…! Well, that was to come!
We were up at 4am on the Sunday morning and in the van on our way to the start village by 4.30am. As we approached the village of Gaiole, it was coming up to 5am, and there were already riders coming up the road who had started and were on their way! Lord only knows what time they got up to get to the start!!!
After being told by a stroppy Italian policeman that we couldn't park the van where we'd left it and being forced to move it, we were finally riding into the village and looking for the start. It wasn't hard to find, just go to the back of the long queue!!! It took nearly half an hour for us to filter through the start and get the first stamp on our race card, which was timed at 5.48am!
And we were off! The first hour is done in the dark, and the first 5 miles of which are on the road. The forecast was for a hot and sunny day so I was only wearing one layer but at that time of the morning, I was glad I remembered the arm warmers, as there was still a chill in the air. I didn't have long to worry about that though because after 5 or so miles, we came to our first section of 'Strada bianca' – white road! This is the main reason why this ride is so famous amongst cyclists, and what makes the challenge of this ride so tough. They are basically gravel paths, that have been compacted over the years by farmers. At some points they are as smooth as tarmac, but mostly they are bumpy and loose. This slows you down whether going uphill or down, and as I found out to my cost, saps your strength. Going uphill, it stops you getting out of the saddle on steeper parts, because the rear wheel will just loose traction and spin on anything loose. Going downhill, you have to take it extra steady incase you find a thick path of gravel and slide slide ways, so I found I was always on the brakes, when on tarmac, I would have let the bike run.
At 6.30am however, I knew none of this, so when I arrived at the first section, I was just excited to ride on it for the first time. There was a small climb through the trees to start on this first section, then a descent back down. The first descent was only a couple of hundred feet but in the dark would have been treacherous. The organisers had put lights along both sides of the track however, which was really helpful. Concentrating hard on descending for the first time, It took me a couple of minutes to notice that the lights were actually really big 'tea lights' and that we were actually be illuminated by candle light! Beautiful!
I didn't stop to take pictures as the track was narrow and busy, but over the next hour or so, I was stopping too much, trying to capture the amazing countryside as the sun came up!
The first food stop came up after about 32 miles, just under 3 hours in… This was a bit of a scrum but in fairness, was the only rest stop that proved to be like this.
Everyone queued to get their card stamped, and whilst waiting, I got my first taste of the en route food that I'd heard so much about. A lady was walking amongst the queue of riders with a tray of small pieces of buttery biscotti – lovely! As we rode round from stop to stop, the food was just fantastic. Wonderful rustic breads filled with spicy salami, small pieces of excellent hard cheeses, chunks of a local fruitcake called Panforte, local fruit, the list goes on… Perhaps my favourite was a local Tuscan bean stew that was laced with garlic.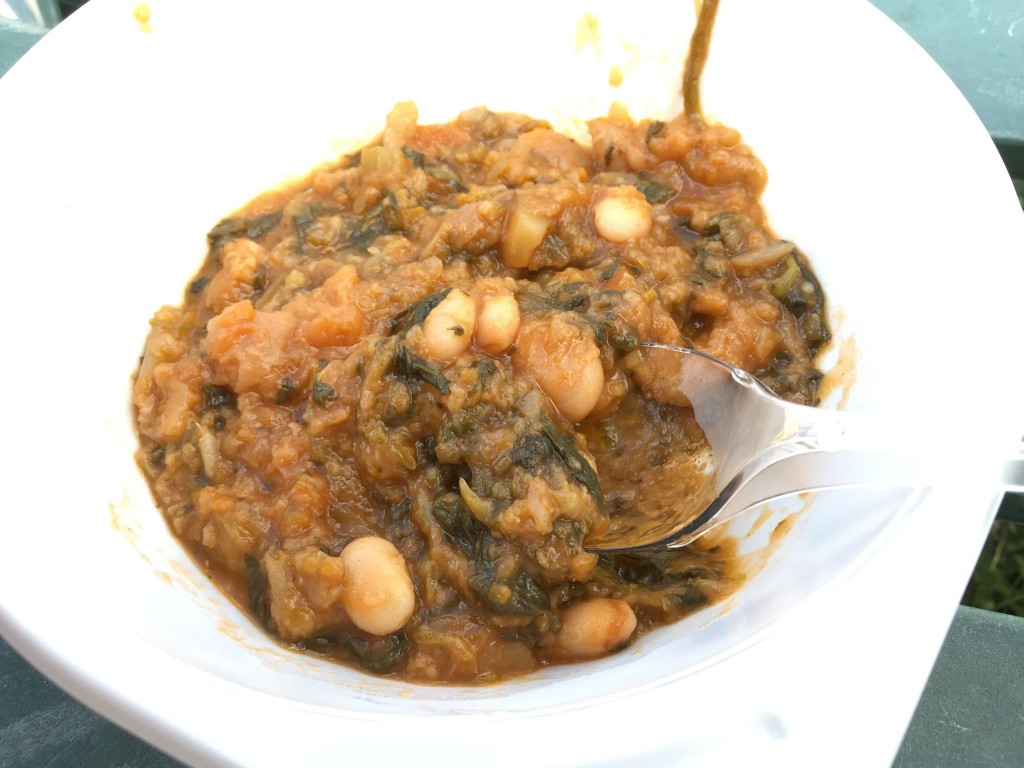 All of this was washed down with the local Chianti! I didn't partake of too much, not wanting to dehydrate on such a long ride, but I couldn't resist a couple of small glasses – just to complement the wonderful food, you understand!!!
I took a couple of photos of the Strada Bianca, that shows how loose the surface is. You just can't stop concentrating for a second when riding on it, for fear of coming across a deeper patch or a pothole, that could wipe you out. Over the whole ride, this takes it out of you. Compared to my other big challenge ride earlier in the year, this had more climbing – 12,000 feet compared to the 7,500 feet of the Tour de Type 1 – but the terrain meant that by about 90 miles in, I felt like I did at the end of the Tour de type 1 – and I still had 40 miles to do!!!
As I approached the 100 mile mark, I did something I've not done before, and was hoping I could avoid – I got off the bike on a hill and pushed!!! The combination of steep climbs and loose gravel meant I was too tired to get to the top of one particularly steep one. I did it on a couple of hills later on too, but it turned out I wasn't the only one, so my pride wasn't too dented! The views from the top of some of the climbs were just stunning…
I got to the final checkpoint just after 6pm and there was officially a cut off at 6pm – if you didn't get there by then, you'd have to take the detour home! As I only missed the cutoff by a few minutes, I thought I'd take the official route anyway. The reason they put in a cutoff and detour is because, apparently, there is one big climb at the end and they don't want you doing it in the dark! I'd overheard someone saying that the detour home was 25k – and that this was longer than the actual route!! They make you do it because its flat and well lit! Well, I was thinking… go the official route and even though theres a climb in, at least it'll be shorter!!
It didn't work out like that. It got dark very quickly over the next 5 or 6 miles, and then I got to a junction where the signs for the route had been changed! There was an official sign pointing one way and the route signs for the day pointing the other way! Which way to go…? I suspect that because it was past the cutoff, the organisers had turned the signs for the day to point straight home and made sure that no-one daft like me tried the last tough Strada bianca climb in the dark! I'll never know for sure but I'm glad I took the route that avoided the last climb – it was pitch black by now and I'd be on the road for 13 hours!
I finally got into Gaiole in Chianti just after 8pm – some 14 hours later. I started in the dark and finished in the dark! I collected my goodie bag and went off in search of Martin and Richard. I found them in a bar refuelling on Beer and Pasta Ragu, which I duly joined them in doing. No pictures of this meal I'm afraid – it was delicious – but I was too tired!
Overall, the hardest ride I've ever done. In that sense, therefore, the most satisfying, but I must confess that riding over the Strada Bianca is also frustrating experience. Ironically, though, not in the way you might expect. I don't mind the climbing, despite the strength sapping nature of the loose surface and the fact you can't get out the saddle as much. That's fine, and actually adds to the challenge. The frustration comes on the descents, and this wasn't something I was expecting. As a cyclist, compared to those around me, in my club and on these sportives, I'm not the fastest guy by any stretch. On the flats, I'm only average and on the climbs, well, I'm just plain slow! But on the descents…, now thats something else. Going downhill has always been my strength. Probably because I'm relatively small on the bike, but still heavy, I punch quite a small hole in the air but have a lot of momentum. This is where I lost out on the Strada Bianca – its just not possible to let the bike run like you can on a normal tarmac descent. You are always on the brakes, and that takes the fun out of it! The reward for a big climb is a fast descent but those rewards don't come on the gravel paths!
So please don't get me wrong – I'm not saying L'Eroica is unrewarding… far from it. I'm just nit-picking, really. I did get plenty of descents on sweeping tarmac, so I can't complain too much.
A weekend of Italian food and vintage bike riding is about as good as cycling gets, and L'Eroica delivers in spades. I would recommend it to anyone with a passion for either. If like me, you like both… well, you know where it is now!
Posted by Gareth