Going further….
February 9, 2014 | 1:41 pm
I got a letter in the post this week. Well, a magazine actually!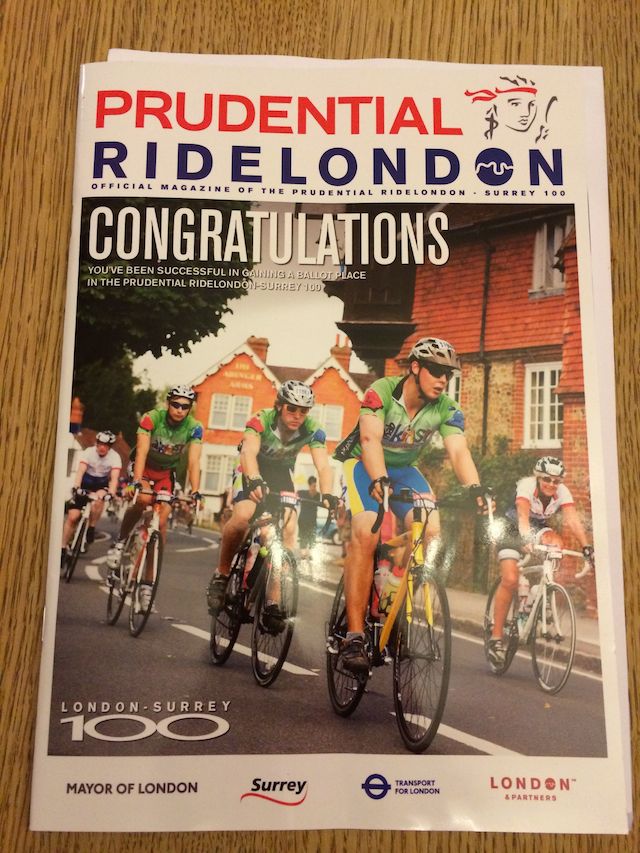 I'd completely forgotten I'd done this but I entered the ballot for this years RideLondon 100 before Christmas. It is the main legacy event for cycling after the Olympic games of 2012, and ran for the first time last August. It was very good apparently, not that I would know. I didn't get a place! Shock of shocks then to receive the magazine in the post telling me I've got a place this year!
Brilliant!
A lot of guys in my cycling club, Tickhill Vélo, also applied for places but at the minute, I'm the only one with a place! Shows how lucky I've been.
Getting the chance to ride this event has rounded out my plans for this year nicely. For those who remember in last weeks post, I alluded to the fact that I have plans for this year – well they are now all in place. This year will again see me try my hand (or more accurately, legs) at four separate challenges. The common thread running among them is long distance.
Up until now, the furthest I've ever cycled is 80-something miles in a day. All four of these challenges will require me to ride 100+ miles – and no lunch breaks allowed! The four events are:
– Tour de Type 1 on Saturday 14th June
– L'Eroica Britannia on Sunday 22nd June
– RideLondon 100 on Sunday 10th August
– L'Eroica 2014 on Sunday 5th October
The eagle eyed amongst you will notice two rides there that I've not mentioned before. L'Eroica Britannia and L'Eroica. These are actually classic bikes rides, also known as Heroic rides, from the Italian for 'The Heroes'.
L'Eroica Britannia is a new event this year, being held in the Peak District, not too far from where I live. It is a British version of the Italian original race – L'Eroica – which I will ride in October in the beautiful Italian countryside just south of Florence.
So, four events in a year…. If that seems familiar, I did something similar in 2011:

Then I was raising funds for Diabetes UK. This time I'll be fund raising for JDRF. Once again, we'll be calling it…
– Four4aCure
It just has a nice ring to it!
Posted by Gareth