London Marathon
April 22, 2013 | 4:31 pm
Well I did it… Just!
I managed to get round in just over 5 and a half hours – five hours 40 minutes to be precise! At about 21 miles, the legs gave up, so the last 5 or so miles was more of a hobble than a run per se!
Overall, I'm just relieved! Relieved to have got round, relieved to have got it over and done with, and relieved not to have any injuries – other than the ones I started it with!
The whole weekend was very memorable from start to finish. We went down to London early on Saturday morning on the train. I had been carb loading most of Friday and carried it on into Saturday on the train with a new experience… Peanut butter and Jam sandwiches (or Peanut Butter & Jelly as its called in the States!)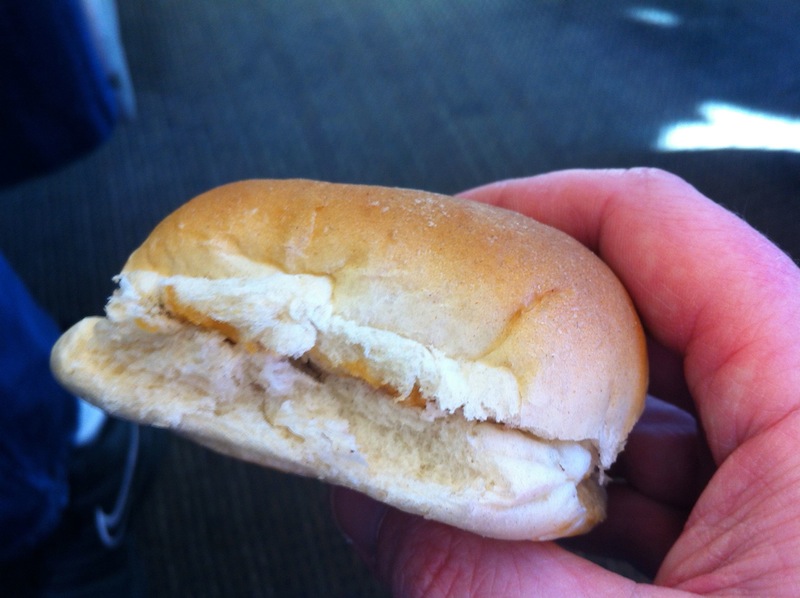 I read last week that if you eat protein at the same time as the your carbs, it will slow down the digestion and help the body store the carbs in your muscles! So the protein in the peanuts slow down the carbs in the bread and Jam. What was it like…? Not as bad as I thought it was going to be, to be honest, but not something I think I will make a regular experience!
We arrived in London, checked our bag in at the hotel and headed straight to the Docklands EXPO to get my number and timing chip.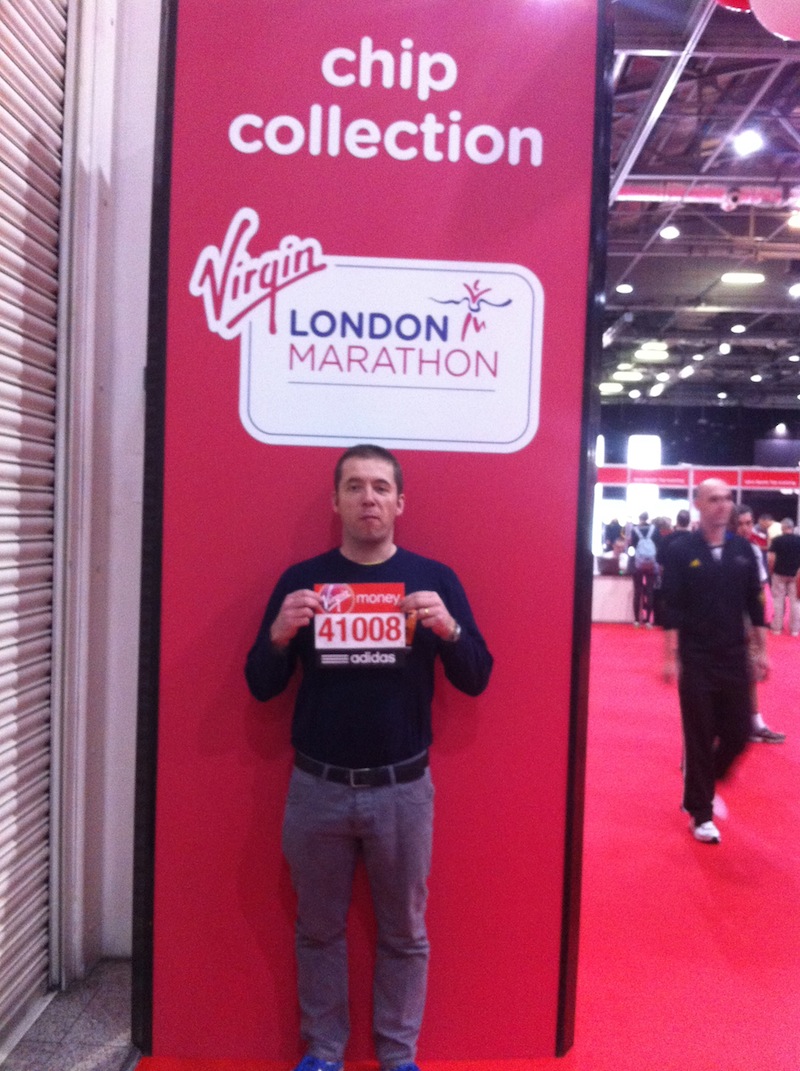 The EXPO was really busy with loads of exhibitors but we didn't hang around too long – I didn't fancy wearing myself out before I'd even started the run! On the way out, we had lunch and another opportunity for some carb loading – a fantastic pie & mash from the Square Pie company inside the Excel centre!
After chilling at the hotel for a couple of hours, we headed into Covent Garden for the JDRF Pasta Party at the Café in the Crypt beneath St Martin in the Fields Church in Trafalgar Square! We didn't stay too late though, for obvious reasons.
I didn't sleep too badly, considering the nerves but was up at 6am to get to the start in time!
Do I look nervous? I certainly don't look like a runner, thats for sure!
I headed off towards Greenwich on the train, and joined the thousands all descending on Greenwich Park. I got there about 8.15am and the sun was bright and warm as we assembled for our group photo.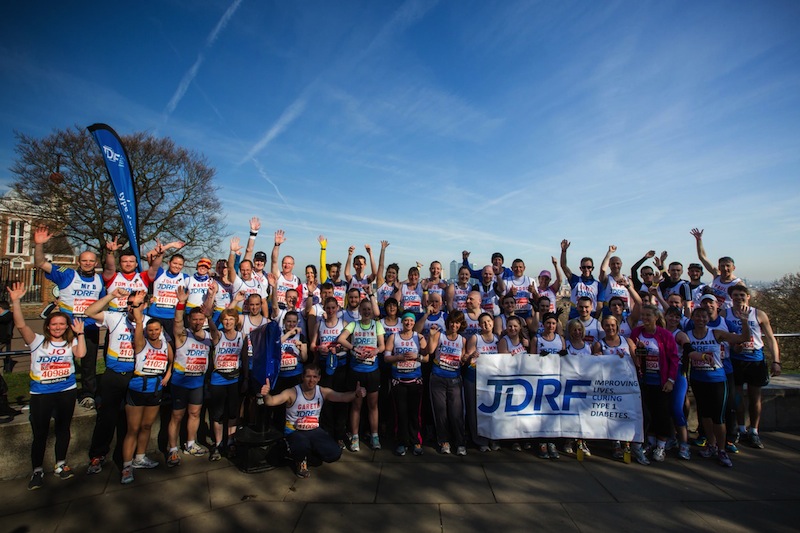 As you can imagine for such a big event, the organisation required is huge. One of the most impressive parts was the kit lorries. Basic things like tracksuit you wear on the way to the race, or the drink you'll want straight after you finish. What do you do with them? Well… Everyone gets a red empty kit bag that you can put all those things in that you dont need whilst running. Each one has a number on it that matches your race number, and you take it to the lorry trailer that matches your number. Each trailer seemed to be set up to take about 3000 bags, so there were probably a dozen lorry trailers all in a row! To see these all lined up was something to behold!
Having dropped my kit off, I headed to the start. As there are so many people doing the Marathon (37,000 starters to be precise), there are actually three starts! Mine was the Red Start, which is the mass start for charity runners. We were asked when we applied to estimate how long we thought it would take us to run the race and then allocated a pool from which to start. I was in pen 7. Now I couldn't remember for the life of me what I had put on this form all those months ago, but I was clearly deluded when I filled it in!!! Also running the race were some pace makers from Runners World – each one of whom had to run with a big flag on their back! In my pool was a couple of pace makers with a 4hr30m flag on their back! So at some point, I'd filled in a form and said that I could run 26 miles in less than 4hr30 – what was I thinking????
I quickly made my way to the back of the pen, just in front of the tape holding back all the runners in pen 8. Their times would have been around the 5hr mark, and there was a couple of rows at the front almost straining at the leash to get on with it!!!
I had visions of being mowed down by a hoard of fun runners! That would have made for an interesting epitaph!
Just before the 10am start time, we were going to observe a 30 second silence in memory of all those killed and injured in the Boston Marathon less than a week ago. I'm not going to go into what I think about the sick, evil and senseless violence that destroyed Boston's race – but I have to say for the record that the silence was observed impecabbly. It was then followed by a huge cheer!
Terrorists win by spreading terror – and there was no terror in sight on Sunday!
We then counted down to the start, and began to walk….. slowly. Very slowly. Towards the gates of Greenwich Park. So much for being crushed in the rush.
It took over 15 minutes to get out of the gates and turn left to cross the timing map where you start running. It was all very relaxed, and not a rush in site! As we crossed the timing mat, and the start proper, I pressed start on my watch. It was 10.18am.
The route is here. The first 3 miles took us east towards Woolwich, through mainly suburban streets. Even from the off the amount of people out supporting the runners was amazing. I was wearing my JDRF running vest and they had supplied me with the letters to put my name on it! Inspired.
The red letters against the white background must have stood out well because almost from the off I heard people shouting my name! "Go on Gareth..!" "Good luck Gareth" "Come on Gareth" This didn't stop for the whole race, and was really helpful as you got further and further in!
After about 3 miles, we turned and headed back west towards Greenwich, but were still in suburbia. The crowds were still huge, but its not the most picturesque part of the world! Every time we went past a pub, there was always a huge sound system blasting out songs, often with a BBQ on the go, creating fantastic smells. It created a real party atmosphere as you ran round!
The first well known site is as you get back into Greenwich and turn right down to the Thames, where we ran round the Cutty Sark. At this point, we're about 6.5 miles in, and the crowds were huge! 5 people deep at some points, all behind barriars to keep them off the route!
The image above was taken by Warren King during the 2012 race and is used here under the kind permission of the photographer. It is available to download (along with more of his work) from Rex Features.
It clearly shows why there are so many people watching the Marathon at this point on the course – it is such a nice part of London, not that I saw it for very long!!!
The crowds weren't behind barriers that much around the course however. Often you'd have people handing out jelly baby's or kids just holding their hands out for a 'high five'! I tried to do more than my fair share of these – it took my mind off the running!!!
Just after Mile 12, we turned to cross the Thames and ran over Tower Bridge. It is an amazing privelege to be able to run through this landmark, and I tried to suck it in as much as possible! We then turned east again and headed away from Central London towards Docklands. I had been looking forward to this bit.
The JDRF had set up a supporter zone at mile 13 and mile 22.5. It was at two points in the race because it was on both sides of the route which ran along side each other. I passed the supporter zone and got the biggest chear so far from all the JDRF workers and family members, all the time looking for Nikki and the children! She wasn't there. I temporarily forget they were also on the other side but looked over and saw them waving!!
What a fantastic feeling! I paused for a few seconds, waving then blew them a kiss before carrying on. Many people have told me in the past how emothional you can get doing your first marathon. Up until that point on the race, I wasn't so sure, but having seen Nikki waving and jumping up and down, I suddenly knew what they meant! That feeling kept me going for a couple of miles, I can tell you!
I was now over half way. I'd been averaging about 11.5 min/mile pace up to this point and my half marathon time was just over 2hrs33mins. The calf injury that I got on my 20 mile training run hadn't flaired up. and so I started wondering, if I could keep this pace up till the end, I was just going to come in around the five hour mark. I spent the next three or four miles thinking about whether I could do it.
At the same time, I was counting down the miles and tried to break the remaining distance down into smaller goals. Just after the 14 mile mark, I'd decided that I had 2 six mile runs to do! 6 milers are my normal training runs during the week – I only had two of them to go! It worked, a bit! Anything to take my mind off it.
I also used the thought of seeing Nikki and the children at mile 22.5 as a mini-goal. At mile 18, I was half way between where I saw them, and where I'd see them again. At mile 20, I was a couple of miles away. But as I came through that next mile, the legs went!
Apparantly, its called 'Hitting the wall'! I'd heard lots about it and assummed it was similar to 'Bonking' whilst out cycling! Before you say anything…. Bonking on the bike refers to the feeling you get when you are so drained of energy, you go light headed and have to eat something quickly or you'll fall off! I have done this on the bike once, but was back quite quickly after eating a Mars bar and drinking some fluids!
Hitting the wall is different. I kept running for about half a mile, telling myself that walking some of it was like defeat. Just keep running! If you walk, you'll not run again, and it'll take forever to get to the end. But my legs felt too heavy, and I couldn't keep running. I walked for a few hundred yards, then started running again. It wasn't proper running though. At this point, I was now doing 13 min/mile pace. You know if you go for a 'power walk' – you dont run but walk strong and fast…? You'd have walked past me at that pace!!!
Around me lots of other people were walking too! I started seeing the same people again and again, as we all walk/ran at differing paces so would overtake each other then catch up again!
At the pasta party the night before the race, we were encouraged to look out for other JDRF runners and encourage them as we went around. We are easy to spot – we all have Pingu on the back of our shirts!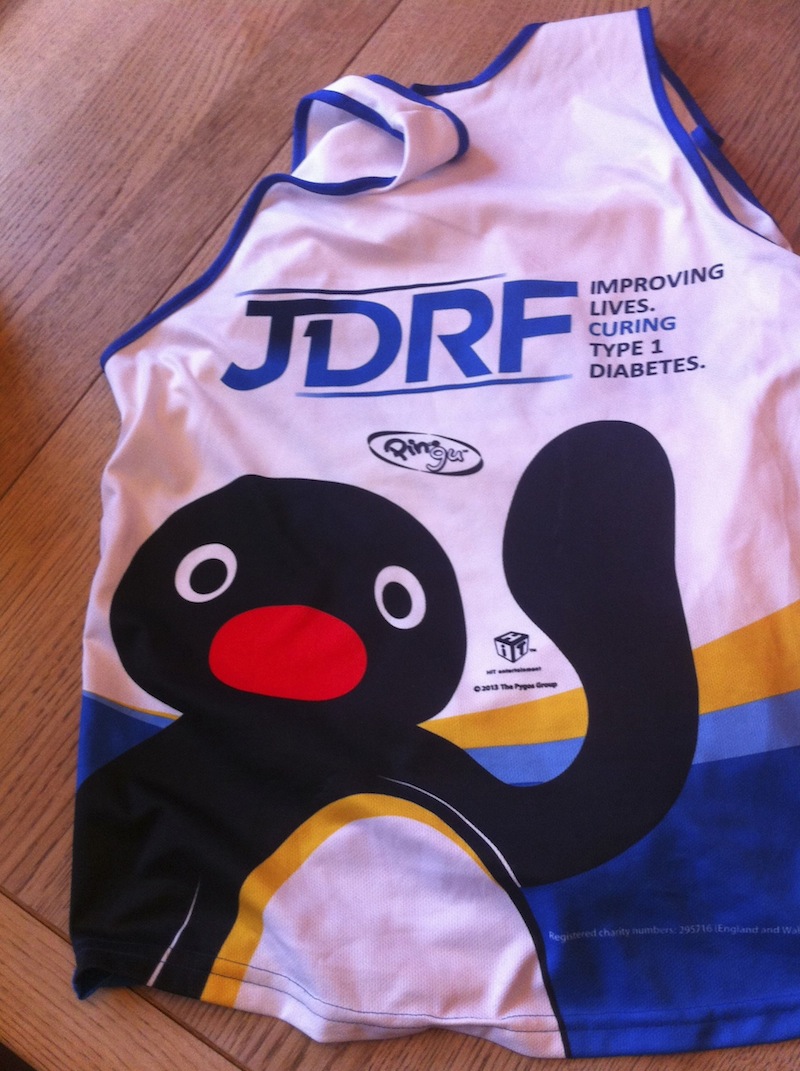 Each time I saw someone, I'd go to them and say "Go on Pingu" and a number of them did the same for me! It really does make a difference to have people help you along who are going through the same thing. One JDRF guy (I don't know his name) was struggling – his leg had gone at 13 miles and he was obviously fighting the pain. He caught me up at one point when I was walking and encouraged me to run with him. I did for a few hundred yards then let him go on as I walked again "I'll catch you up at the end" I said. This happened a few times with different 'Pingu's'!!
I got to the 22 mile marker and saw about half a mile ahead where the JDRF supporters zone was – it was ahead of me on a long straight section and I was determined to run all the way there. Whether I did or not, I'm not sure!
I saw Nikki and the children by the barriers and threw my arms around them. "Don't ever do this!!" I said, and kissed my wife!
Only four miles to go! It took me an hour!!!! At 23 miles, I thought – only 3 miles to go…. I can run the rest, only to walk again after a few hundred yards. Each time, I stopped running and walked, my legs would start to seize up.
By the side people were still shouting encouragement. I noticed that when I was running they shouted my name more. I'd always ackowledge them with a wave or a fist pump or something!! But by about mile 24 I didn't have the energy to even wave!!!
At mile 25, I resolved to run the rest, and did. Round past Big Ben, through Parliament Square, down Birdcage Walk, and round past Buckingham Palace.
At this point, you go under a bridge that says "385 yards to go". That was an amazing site to see, let me tell you.
Then you run past Buckingham Palace and turn onto the Mall, where you see the finish line! The temptation to stop running and walk, just to take in that sight was almost too much but I was going to finish this running,… not walking.
I raised my arms as I went under the finish line. The clock said 5hrs 59mins but I knew that wasn't my time because I'd started after 10am. Even remembering this, I forgot to press stop on my watch!!!
It took me another 15 minutes to hobble through the finish area, collect my medal, have my photo taken and collect my bag before I realised that I'd forgotten to stop my stopwatch!!!
It beeped on my wrist to tell me I'd done my 27th mile!!!!! As if 26 miles and 385 miles wasn't far enough!!!!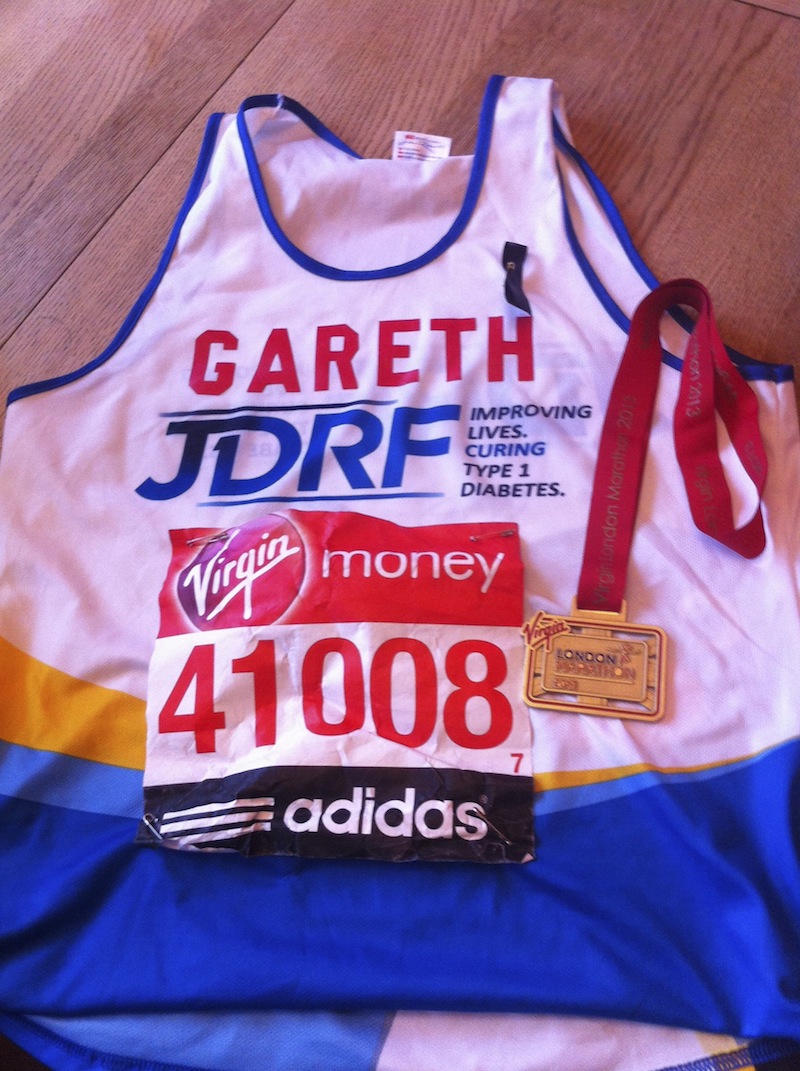 Footnote!
If you've read this 'Marathon' post all the way to here, you've done your own little marathon too… So well done! As a reward, you get to click on the link below and feel good about yourself for helping to cure Type 1 Diabetes!!!!
Posted by Gareth