Type 1 Diabetes Awareness video
June 11, 2012 | 9:31 am
Today marks the beginning of Diabetes Awareness Week for 2012.
In preparing for this week, Samuel and I took part in a video shoot a couple of weeks ago, jointly organised by Diabetes UK and JDRF UK.
A couple of months ago, Diabetes UK asked all the usual suspects (including us via the CWD website) for some input on an awareness video they were planning. As part of a joint campaign with JDRF UK, they wanted to bring some increased awareness of the symptoms that children exhibit in the lead up to being diagnosed with Type 1 Diabetes. The idea is that if parents know what to look for, children will be diagnosed earlier. I hadn't mentioned anything about this until now, as I didn't know what would come of it at the time.
As always, I said, happy to help if we can. And the next thing I know, I was having a telephone interview with Garo Berberian, from Fabled Films, the Director/Producer of the film. I've never been one to hold back on my opinions (don't sound so surprised!!) and we ended up having a long conversation about what happened to Sam in the months leading up to his diagnosis in July 2010. I shan't go into the gruesome details here but I thought that would be the end of it.
As I saw it, I was helping the producer with his research but as these things are always done in London, I assummed when it came to shooting the actual film, they'd use people closer to where they were based.
I was therefore suprised when they asked us to come to the film shoot a couple of Saturday's ago. It was to take place in a school in the east of London, which is about 3 hours from where we live, but we still wanted to help and I thought the experience of seeing them make a film would be interesting for both Samuel and I to see. So we made some sausage butties on Saurday morning and set off at about 9.30am. The journey down was pretty much traffic free and we were there more than an hour early.
On the way down, Sam and I discussed what we would say in front of the camera. To help with this, the producers had emailed through a list of questions, the answers to which they thought would form the basis of the shoot. And they certainly got Samuel and I thinking on the drive down.
As we went through the list, Sam was less and less keen to keep talking about it, as it was obvioulsy bringing back memories of his diagnosis. However, once we got to the shoot and he was in front of the camera, he "performed" excellently. I think he saw it as an opportunity to help too, and although he was very nervous, and needed a few go's (I believe they call them 'take's in the trade!! Get me!), I think he came over really well.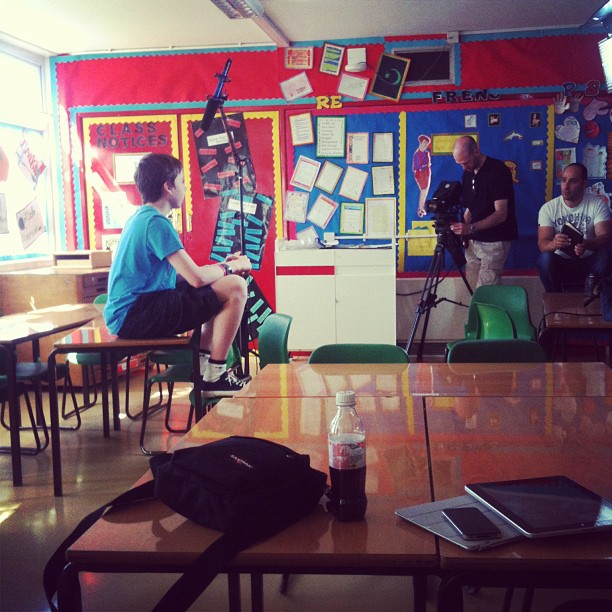 You can see Samuel in front of the camera in this piccie taken by Joe Freeman from Diabetes UK. What you can't see is the very proud Dad just off camera!!!
As I write this, I still haven't seen the final edit of the video. I intend to write more about the days leading up to Samuels diagnosis, and will also share with you the list of questions the producers sent through. This will be especially interesting for other parents who've been through this, as it'll bring it all back.
However, I want to see what the video looks like before I go too far down that road.
If it's what I'm hoping, it'll be quite hard hitting and I'd rather people see it 'blind' as it were, rather than filled with my preconceived ideas about Type 1.
I'll post a link here as soon as I get one!
Posted by Gareth