My first French ride and some thoughts on gates!
August 18, 2011 | 9:41 pm
We are one week into our fortnight in France and I have managed to get three 'proper' rides in. Not too bad.
On Sunday, I went out just after 9.30am and did a loop across the valley via Portuis and back. Just over 35 miles through some pretty French villages.
I had set out with the notion that I would take pictures along my route of my bike leaning against gates. Not my idea at all but inspired by Bike and Gate, Jamie Bishop's – @j4m1eb – online photoblog of…. wait… you guessed it… bikes and gates. I thought I 'd try and make a couple of French contributions whilst we were out here.
It quickly occured to me though that in France, gates aren't quite the same. What? I hear you say! A gate's a gate, surely! Well, yes, strictly speaking that's true, but in the sense of what they are used for in France, the difference is subtle but real. Most of Jamie's pictures are of gates to fields, that you see when you are out riding, and I believe (although I stand to be corrected) this is where it started. Take a piccie of a gate as you pass it and send it to Jamie.
Only, in France, the gates aren't to fields. Although most of the areas I have cycled through are agricultural, I can hardly ever remember seeing a field with a gate. There might be elsewhere where livestock is kept in by gates, but fields of sunflowers and vines don't tend to wander off if you haven't shut the gate. Hence, no gates.
There are gates in the French countryside though, all over in fact. They tend to be larger and grander than our common or garden field gate, because they are the entrance to someone's house, or farm. This is the bit that puts me off collecting pictures of my bike leaning up against them. It's alright to lean your bike against the fence and try to get some nice scenery behind if its just a gate to a field, but if it's someone's house, it doesn't quite feel right. Unless of course, they are used it… eh Jamie?
So, with that in mind, I was back to photographing more appropriate things for my surroundings. Which in Provence, certainly consists of field's, hill's and churches. Now this isn't designed to turn into an eclisiastical tour of Provence but you are likely to see some of that sort of thing here, over the next few days!
My first stop of the ride was in Cadenet. A small village nestling on the side of a small cliff face, with what I think must be an old ruin at the top. I didn't stay long enough to find that, but did see the church.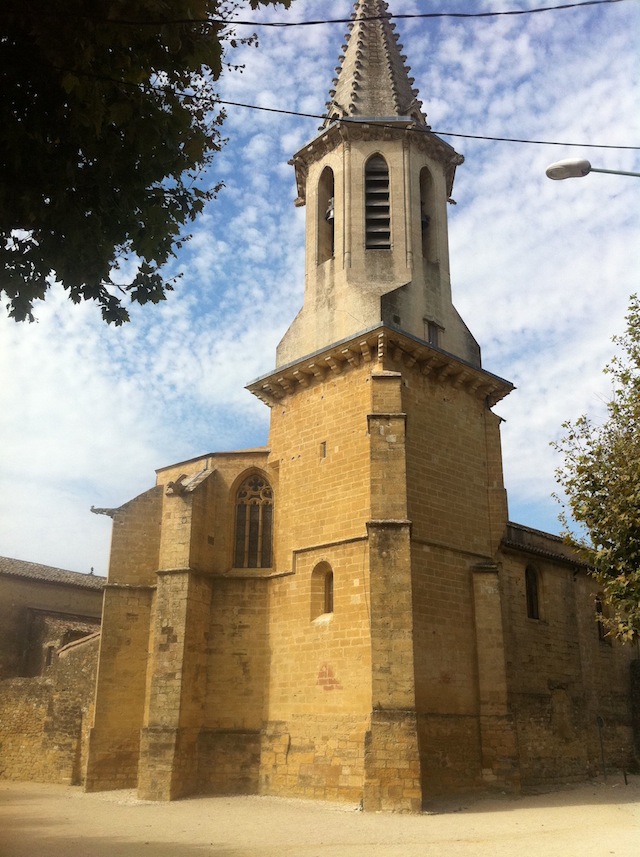 It was 10am on the dot when I got there and the bells were ringing, calling the worshippers in. I didn't hang around to take communion – I'd look a bit odd doing that in lycra!
I then continued through a couple of quite nice little villages called Cucuron and Vaugines, between which I saw this, by the side of the road…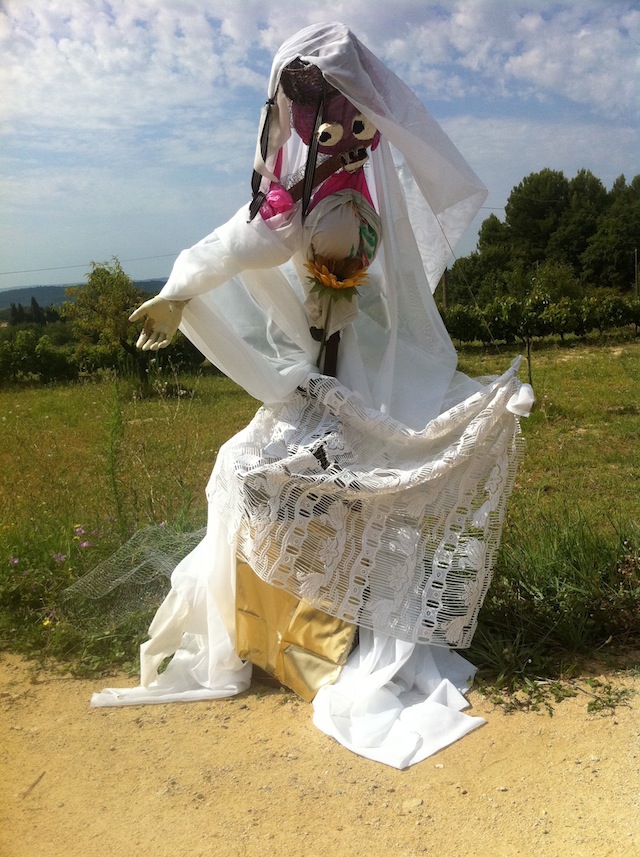 I'm not sure what it is – I can't say I've ever seen anything like it before. There are lots of Madonna shrines dotted along the roads outside small villages in France but I've never seen a Madonna scarecrow before, and certainly not one in a wedding dress! Make of that what you will.
From here, most of the climbing was done and the ride was generally downhill back to the villa.
Overall, not bad, but I was left wondering whether the area we were staying in this year wasn't as scenic as the part of Provence we were in last year, about an hour to the east.
The second ride I did on Tuesday put paid to any concerns I might have had, more of which in my next post.
(It's a bit like a cliffhanger ending, isn't it!)
Posted by Gareth