London Triathlon Report
August 17, 2011 | 6:11 pm
Firstly, an apology.
It's been over a week since I finished the Triathlon in London, and I've only just got round to blogging about it. I've been so busy relaxing you see!
As regular readers will know, the London Triathlon (Buckinhgam Palace Sprint Course) was the third challenge in my Four4aCure series. I took the whole family down on Friday night to make a weekend of it. We packed my bike and gear in the car on Friday lunchtime, dropped the dogs off with Grandma & Grandad and headed to our Nation's Capital.
We stayed at the Novotel at Heathrow, as it was the only hotel we could get close to the West End (that we could afford!!).
Being that far out of Central London didn't prove to be an issue as we had promised to take the children to Thorpe Park on the Saturday, which is less than 10 miles away from hotel. Before that however, we went directly to Hyde Park in London, getting there late on Firday afternoon.
For any race, you need a race pack. This includes important things like your race number and your timing tag – both of which you need to wear during the race. You can imagine with over 5000 competitors that the queue would be huge before the race, so when I saw they were opening race accreditation on the Friday night, I thought it would be a good idea to avoid the queue's. We got there about six o'clock and guess what… there was a queue!!
Not too long mind and it took about 20 minutes to get my pack, which Samuel then very kindly carried as we walked back through Hyde Park to the car.
I shan't go into too many details about the interlude between Friday evening and Sunday morning, safe to say a good time was had by all.
My start time on the Sunday monring was 10.40 and we got to Hyde Park about 9ish. We were able to park quite easily in the underground car park at the North end and walked down to the Serpentine, where the start/finish was.
I put my bike into the transition area and decided at this point that I was going to swim without using a wetsuit. There was a sign saying the water temperature was 20.7ºC. Wetsuits are not allowed above 22ºC – and I think they are mandatory below 20ºC. Most people were going with them, but I really dont like swimming in a wetsuit. Maybe mine is too small for me, but I feel claustrophobic in it and find it hard to breath. Instead, I swam in my Trisuit, which I would have worn under my wetsuit anyway!
After our briefing, we were ushered onto the pontoon on the Serpentine lake and had to jump in. No diving starts allowed! Out of about 30 people starting in my wave (which was the last of the day), only one other person wasn't swimming in a wetsuit… I did wonder if I'd made the right choice. Too late now of course, and the next thing I knew, the horn sounded and we were off!!
I can't pretend for one minute that I enjoyed the swim. I don't mind the open water aspect and without the wetsuit I felt fine. I think my problem with open water swims is that I have no concenpt of how far I've done. The swim was 800m long and there were just two turns, neither of which were at a third of the distance. This means I find it impossible to pace myself. Should I be going faster? Am I going too fast? I can do 800m in under 18 minutes in the pool – it took me 22 minutes in the Serpentine! Bloody ages! I really need to work on that!
Once out of the lake, I was then into the first transition. This is normally a couple of hundred metres at most to get to your bike. However, because this was such a big race with so many competitors, the area required to store all these bikes meant that I covered over half a mile from getting our of the water to getting onto the bike. I was expecting a time of about 2 minutes for transtion 1 – it ended up being over 4 minutes!
Excuses, excuses – I know!!
Anyway, the ride and the run, I was much happier with them. I was six seconds off my PB for 20K on the bike, which I set without a swim before and a run after. It was the fastest 20k as part of a Triathlon or Duathlon I have done to date. In the run, I managed 7'55" min/mile pace – not quite a PB but very close.
The second transition was a minute longer than I had bargained for – again because the transtion area was so big. So, overall, I was pretty pleased with my time of 1hr32'27". As I was hoping for under 1hr30 but reckon I lost the difference to the large transitions, so I was probably on the money with regards to pace.
I must say that to get it below 1hr25 will be a massive leap though – a serious challenge. I suppose that's why people find triathlon so addicitve. You are only racing yourself!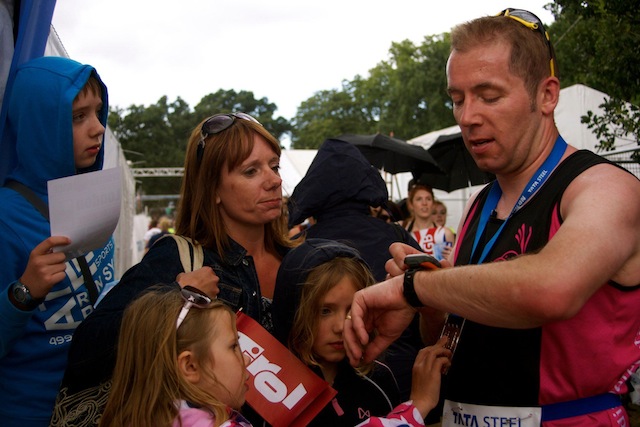 Posted by Gareth