Swimming on my bike
July 16, 2011 | 8:36 pm
I like riding my bike, but not so much if the weather is poor. A normal Sunday morning ride with the lads usually gets cancelled if the forecast looks bad! Clearly, given the choice, I'm a fair-weather cyclist!
Unfortunately, I didn't have a choice today. I was going to have to cycle, whatever the weather. And the weather was poor. Actually, it was worse than poor, it was crap!
I've never been so wet. I think I'm dryer in the pool! Normally, I cycle with sunglasses on to protect from the wind and shade from the sun. Today, I needed goggles rather than glasses!!
The clouds kept rolling over us and each time, they looked darker than the last. I had to get changed at lunchtime into dry gear, I was that wet but by mid afternoon I was soaked again.
All my cycling gear is now drying out in the drying room – let's hope it's dry in the morning, as I've nothing dry left!
I took a picture of the clouds as the next front rolled in to show how dramatic it has been. This was taken at the highest point of the day, once we'd climbed to 1900ft.
Have you ever seen a square cloud before?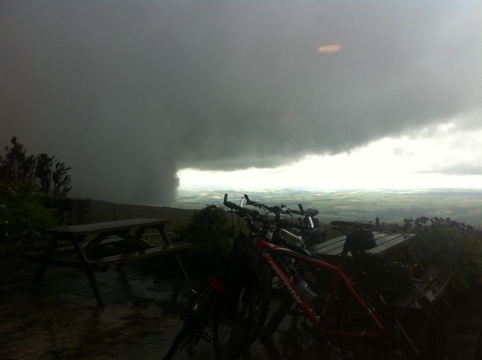 Posted by Gareth