A diabetic on camp
June 12, 2011 | 7:45 pm
Samuel went on his first Scout camp this weekend, as a diabetic. He is a veteran camper having been on a couple of Scout camps and plenty of cub camps.
However, this was his first as a Type 1 Diabetic. We dropped him off on Friday evening and collected him this Sunday lunchtime. In the meantime, he was in charge of his blood's. Him, on his own! He had his phone with him, if he needed to call us – which he didn't.
When we collected him, he was tired (which is normal) but otherwise was fine.
"How were your bloods, Samuel?" Nikki asked.
"Fine" Samuel said, with typical nonchalence.
"Fine….? Go on…"
"I haven't been above 8 all weekend"
Let's put this in context. Samuel is 11 years old. He has been a T1 Diabetic for 11 months. He uses a Roche Accu-Chek Insulin pump and is on a carb counting regime.
For nearly 48 hours, he self managed his diabetes and kept it COMPLETELY under control.
This is his bloods for the last week which look pretty good, but you can see the weekend on the right that Samuel did all by himself. Whilst eating strange foods, staying up late, doing loads of different activities and all the other things they do on Scout camp.
I cannot tell you how proud I am of him right now!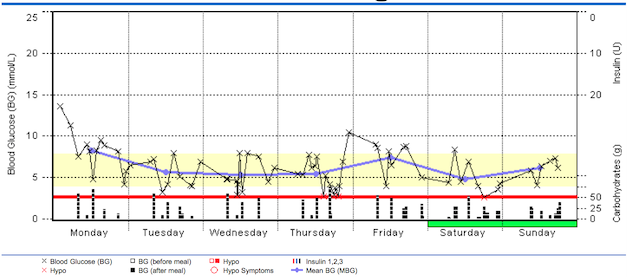 Posted by Gareth