Sam's single worst day
February 13, 2011 | 8:15 pm
On Thursday, Samuel had his worst single day since he left hospital after his diagnosis.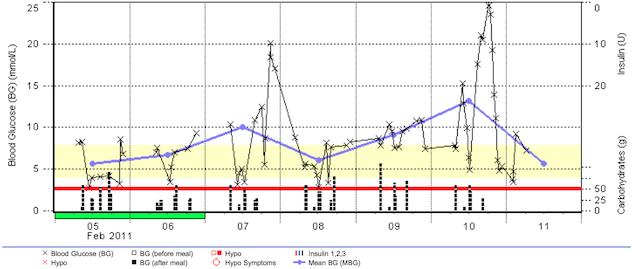 As you can see from the graph, by about 7pm on Thursday Sam had risen to 25 (450). To get him down, we tested him every half hour up till he went to bed at 10pm. At each test, the pump allowed for a correction and we put a bit more insulin in him. The graph also shows that he came down quickly, but in hindsight, too quickly.
We realised when he dropped to 10 in a couple of hours that he was going to keep dropping with all the insulin going in. We gave him some orange juice before bedtime and continued to test him into the night, but we had to wake him at 2.30am as he was going hypo (3.2 – 58). The first time we have had a hypo at night – scary!
He wasn't high the next day, and hasn't come down with a cold, so the only reason we can think was that his infusion site had broken down. He was due for a change on Thursday night anyway, but maybe the insulin wasn't going in by Thursday afternoon?
Next time, we wont panic so much and try to bring him down so quickly. So perhaps we can get him down without crashing so low…?
They say it's a good day if you learn something. On that basis, with diabetes, every day is a good day at the minute. It's hard to see it as that sometimes though!
Posted by Gareth