Fund raising
September 21, 2010 | 7:19 am
This week my mind turns to fund raising.
And not just for Diabetes UK.
I have been fund raising quite regularly over the last five or six years with a small team of other like minded parents from my children's school. As the Tickhill St Mary's PTA, we raise on average approximately £5000 a year. To achieve this, we run a few annual events, all of which we have been doing so regularly that they (usually) almost run themselves.
This weekend is the biggest of them – the annual Tickhill Duck Race. If you've never seen one before, come to the Mill Pond in Tickhill this Sunday at 2pm. I will have my big wellies on and will be encouraging over 1000 plastic ducks down the stream. Each one has a number on it that corresponds to your £1 ticket. All funds go towards the local school.
My experience in fund raising has always been event based. So, once the Duck Race is done, next weekend I will have my first experience of these…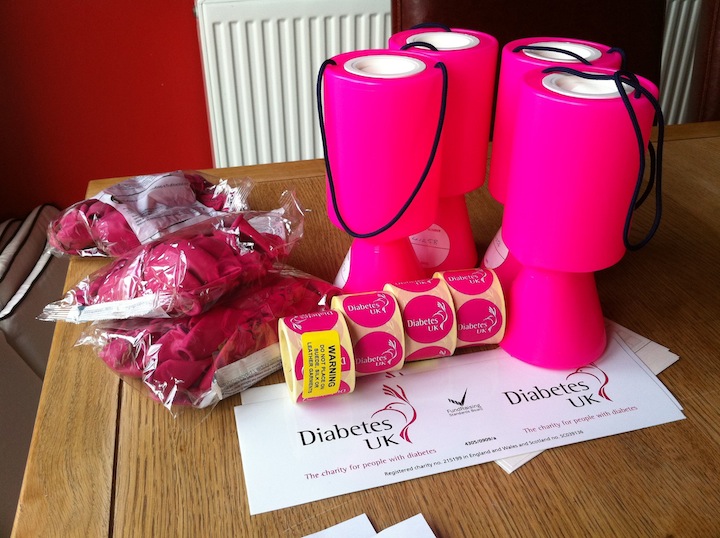 I'm going to stand outside our local ASDA and shake my tin (is that a metaphor?). A new experience for me.
Actually, I can't resist turning it into something of an event. So, I won't just be stood there. I'm going to try and cycle from London to Paris AGAIN! I shall sit on my bike and pedal for 200 miles but it will be attached to a turbo trainer. So I can do all the miles without going anywhere! With a banner and loads of balloons, hopefully passing shoppers will be interested enough to stop and ask what I am doing. Perhaps even put some loose change in my tin?
Samuel (and any other volunteers we can get) will have tins and will be handing out stickers to generous contributors.
If you are shopping in Sheffield, I will be outside the ASDA Handsworth just off the Parkway on Saturday and Sunday, 2nd and 3rd October. Come down and see a fat bloke in lycra!!
Let's see how much we can raise!!!
Posted by Gareth