The French for detour is…. détour!
June 21, 2014 | 8:30 am
Cycle the the first stage of the Tour de France, they said, and raise money for JDRF whilst you do it!
Well, I like a challenge, as you know, and I'm all for raising money to help cure Type 1 Diabetes – so where do I sign…???
That was last year! Fundraising done, training in the bag, and I turn up on Friday night in Harrogate, raring to go….
At the briefing, the night before, a little change to proceedings…
"Er, as you may or may not know, they are currently resurfacing one of the three climbs"
No, I didn't know this.
"So, we will have to do a detour for the first climb. It will be up Fleet Moss. It's a bit steeper but cuts off a few miles "
Oh, OK. That doesn't sound too bad. Little did I know!!!
At the time, I was more concerned about the fact that we weren't going to be doing the ACTUAL route of the first stage, and that this detour would knock about 6 miles off our total mileage. Being a sucker for punishment after all, I hadn't come all this way to wimp out!
Before all the riding started however, it was a question of getting up with the larks to get to the start on time. The bus that was to transfer us to the start in Leeds was late (having originally gone to the wrong hotel) so our 6.30am departure time was closer to 7am. Not too bad actually, considering the amount the amount of food I have tried to consume at such an early time in an effort to load up with energy for the day ahead!
A cup of tea with a croissant with honey and jam then a bowl of instant porridge before I even left the hotel room…
Coffee downstairs in the hotel restaurant with the biggest breakfast 'buttie' on record… bacon, egg, sausage and a hash brown in a big gap…! I normally like a hearty breakfast, but this force feeding at 6am felt like torture!
It's a good job the coach was late – if it had departed on time, some of my breakfast might not have made the whole journey to Leeds…!!!
We arrived at the Headrow in the centre of Leeds, where the Tour will kick off this year, and found our bikes already for us – delivered there by the organisers, Classic Tours.
Quick check of the gear before its time for the obligatory group photo…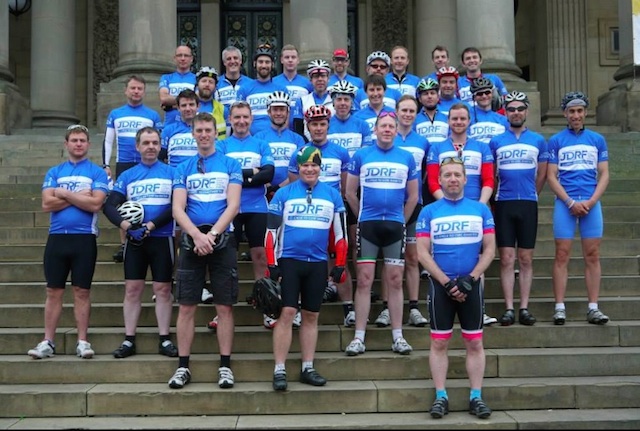 … and we were off.
The first 10 miles or so is a steady uphill as you leave Leeds City Centre, and ride towards suburbia. With the gradient going up and plenty of stop-starting at traffic lights, the band of just over 30 riders soon got strung out. About 1/3 of those riding for JDRF were starting from Leeds and doing the FULL distance. The others were starting at three different points along the route for smaller distances, depending upon the level of challenge people wanted to take on.
By about mile 9 though, we are starting to see the countryside and by mile 15 we were out in it! At this point, I was pretty much at the back. I knew this because I got chatting to the doctor on call for the duration of the day. There were a couple of the support team for the event who were there for medical emergencies and one was a doctor from Sheffield whose role was to cycle at the very back in case anyone had any medical issues. We were chatting about type 1 care, amongst other things, when we came across a rider who had stopped to put on his waterproof jacket. Guess what – it had started to rain. It wasn't too heavy and as I looked ahead the sky seemed to be clearing so I didn't stop to put my jacket on, and instead left the doctor with our friend at the side of the road and carried on regardless!
Bonus – I wasn't at the back anymore!
This proved to be one of the recurring patterns of they day. As soon as I started going up hills, I would find people going past me. The first 10 or so miles out of Leeds was uphill so I was last! However, the next 5 miles or so was downhill, and this is where my experience came to boot – and my weight!! Fat lads go uphill slowly but as Isaac Newton taught us, weight overcomes inertia going downhill.
I was on my new Madone which was riding like a dream and I was slipstreaming with the best of them! So every time we had a bit of a decent, I could make up a lot of distance, and even overtake, a lot of the lighter people who had come past me on the uphill parts. This continued through the first 45 miles, which were undulating quiet roads in the most idyllic Yorkshire Dales countryside, via Ilkley and Skipton!
Our first refuel stop came at Kettlewell, a beautiful village in the heart of the Yorkshire Dales. I say our first stop, it was actually supposed to be the second break but I never saw the first stop, and a lot of others were saying the same.
"This is the second pit stop..? Really? I didn't see the first!"
The organisers, Classic Tours, had parked one of their support vans in the car park of the garage and set up a table with lots of goodies on it! As I was refilling my water bottles and tucking into the malt loaf, fig rolls and salted peanuts (carefully chosen to load up on the carbs and salts I was loosing!), I looked down and noticed my legs had loads of little black flies on. We were actually by the River Wharfe in a lovely setting, but these flies wanted lunch too, and I was on the menu!
As I write this on Wednesday, the bites are starting to go down but on Monday night, it took all my will power to stop scratching and I had to put bite cream on them – never needed to do that before!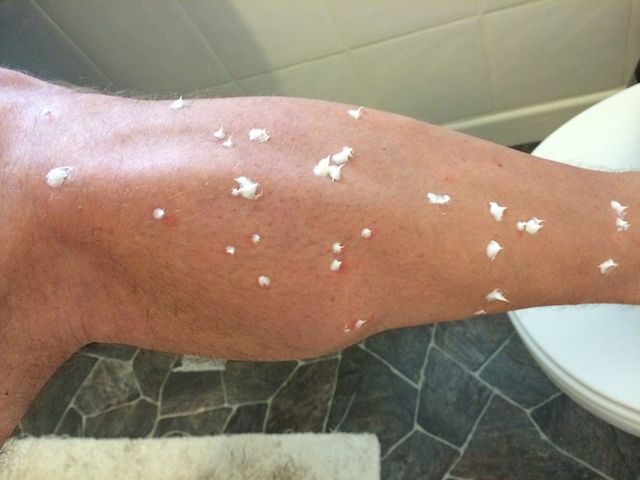 Luckily, this didn't bother me at the time of the ride.
Refuelled and ready to go, I set off again. It was another 10 miles of beautiful rolling countryside, and then our detour was upon us! At the briefing the night before, Gideon from Classic Tours had remarked that the climb we would undertake was a little steeper than the scheduled one, but was also a little shorter. I didn't really pay much attention at the time. A little steeper is relative as I haven't done the climb we were missing out on either. This one included a bit round one corner that is the steepest single bit of road I've ever been up! So this is Fleet Moss!
Last year, I did a ride with a friend out of Oughtibridge near Sheffield in the Peak District. That road was the first and only time I had to get off my bike and walk, as the hill was too steep. That was the main reason I invested in my new bike, because I expected the hills in the Yorkshire Dales to be steeper than that, as well as there being more of them!
Good job I did. Fleet Moss is listed as one of the 10 toughest climbs in the UK – so steep in fact that they didn't put it in the actual Tour route (maybe!!). There were lots of people getting off and walking as it started going up – and there's no shame in that, everyone has to get up at their own pace. However, I was determined to do all the climbs without stepping off the bike – if nothing else, once you do, its blooming' hard to get started again!! The road gets to its steepest at a U bend and I reckon it was about 25% at that point – 1 in 4.
Riding up to it, the road just goes up in front of you like a wall, and to climb it, I had to sprint out of the saddle just to keep moving, at the same time as lessoning the angle by riding across the width of the corner (if that makes sense!). Good job this bit was only about 30 yards long or I would have been off the bike!
The top isn't much further once you've got through this part and I was rewarded with the most fantastic decent – long and fast, all the way down to the village of Hawes. I don't think I've ever gone faster on a bike, and because the road is pretty straight all the way down, I could see a long way ahead of me to judge the road and make sure it was clear of other traffic…
Weeeeeeeeeeeeeeeeee……!!!
We went through Hawes and pretty much started climbing again. This was Buttertubs – apparently a famous climb in these parts, and the one that all the cycling fans are looking forward to seeing the pro's ride, as the Tour proper comes through. It is a long steady climb up from the valley bottom and you can see pretty much all the way to the top as you climb. The whole climb itself is about 3 miles long, so it is longer than the first, but never gets quite as steep at any point. According to my data off my GPS unit, the steepest bit was about 15%, which seemed about right. Even so, with a climb as long as that, you need to pace yourself to get up in one go! A little trick that the pro's use to recover on a climb, without getting off, is to weave left and right in the road. The gradient going up may be 10% or more, but the gradient from one side of the road to the other is level, so if you ride from side to side you are increasing the distance a bit but actually flattening out the climb. Perfect for letting burning muscles recover!
I got caught doing it on camera… it's not cheating, honest!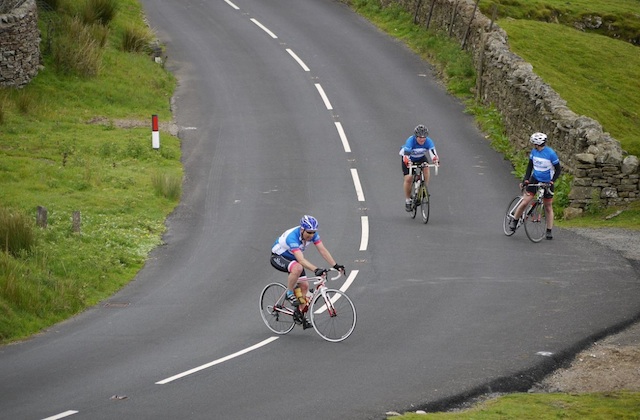 As it turns out, there is a false summit at the top of Buttertubs, so when you think you are cresting the top, you arrive and find there is still more to do. Thinking back now, I can't recall exactly the summit, and what it looked like. At the top of all three climbs, I just rolled over the top and carried on. Perhaps I should have stopped for a photo. This didn't really occur to me until I was starting down the third climb (I think, they were all blending into one another by this point!)

The final pit stop came at about 95 miles, and this was the first time I'd been able to get a signal to message home or call! This was about 4pm! Once Nikki knew I was OK, I refilled the bottles, took a quick photo of the bike for posterity and set off on the last 21 miles!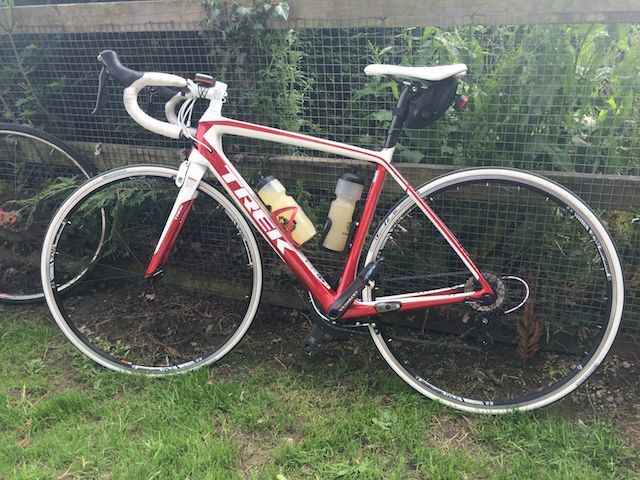 The last stretch was pretty steady rolling countryside, but by this time, I was just counting down the miles….
20 to go…
15 to go
10 to go
10 to go… still!!!
5 to go…
As we came into the suburbs of Harrogate and I saw the town sign, I was tired but not on the edge! I did have a laugh to myself though because the last road into Harrogate is, believe it or not, a hill! I think they put that there to taunt me! It was then a quick potter through the town to the pub where we were to finish.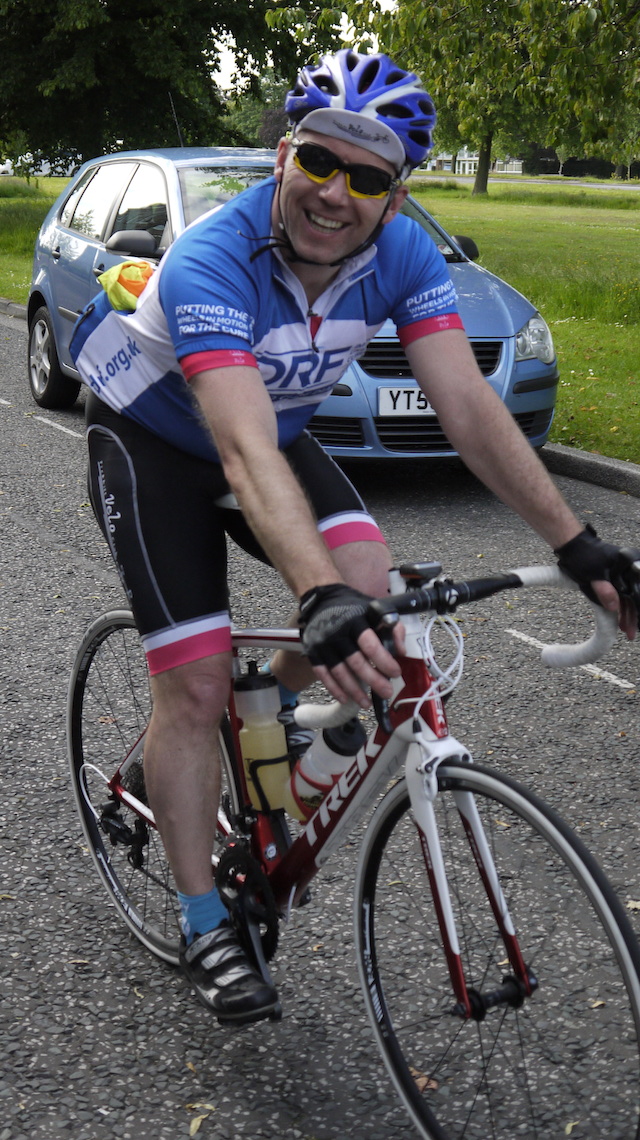 I know I wasn't the first to finish by any stretch! I found out later that some had finished 3 hours or more before me. It was confusing because there were people starting at different points along the route. Those of us who started in Leeds in the morning were looking at 131 miles. Others were doing 118 mile, 85 mile or 58 mile versions of the same route. Basically starting further along and finishing at the same point. We mixed in together through the day, and it was great to pass and be passed by people all cycling in Blue JDRF jerseys.
I got a medal to add to my collection and the celebratory pint of Shandy tasted good! (I didn't have a beer – I had another 2 miles or so to ride back to the hotel!)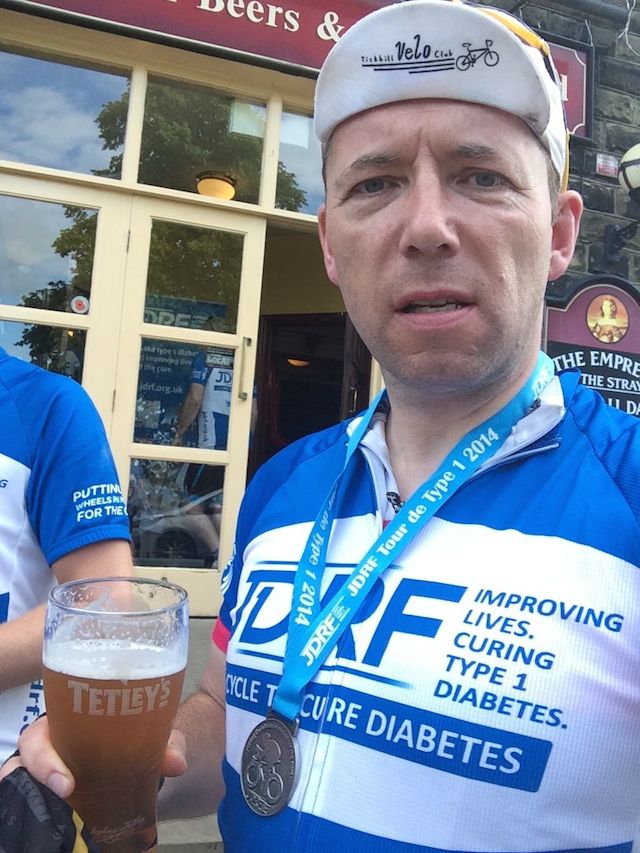 I suspect of those who started the full 131 distance, I was either last back or close to last. In the Tour proper they call this the Lantern Rouge! Who knows, and I don't mind at all! I did it in 10 hours 40 something, with probably an hour in total of stops. The final distance was 123 miles (inc the last couple to the hotel!) which is just a couple of miles short of my longest ride to date. In contrast, the climbing total came to 7500ft, which is BY FAR the most I've ever done in a day – probably twice as much!
And thats challenge 1 done. This report has run to far longer than it should have, and if you're still with me here, perhaps you deserve a medal too! There's a shed load of pictures at the following link:
https://www.dropbox.com/sh/ukz83mgn5yl0tbc/AAAmCzK7fMcasflye0f_ik-qa
Now attention turns to the next challenge. I've got 8 days to recover before the next Century ride – around the Peak District!!
Posted by Gareth