Hatfield Triathlon
July 29, 2012 | 2:38 pm
This morning was the Hatfield Triathlon at Hatfield Marina near Doncaster.
A Sprint Distance Triathlon with a swim distance of 750m, a bike ride of 23k and a 5k run.
On a warm and sunny, if a little windy day, it was a very relaxed affair. I had my support crew with me…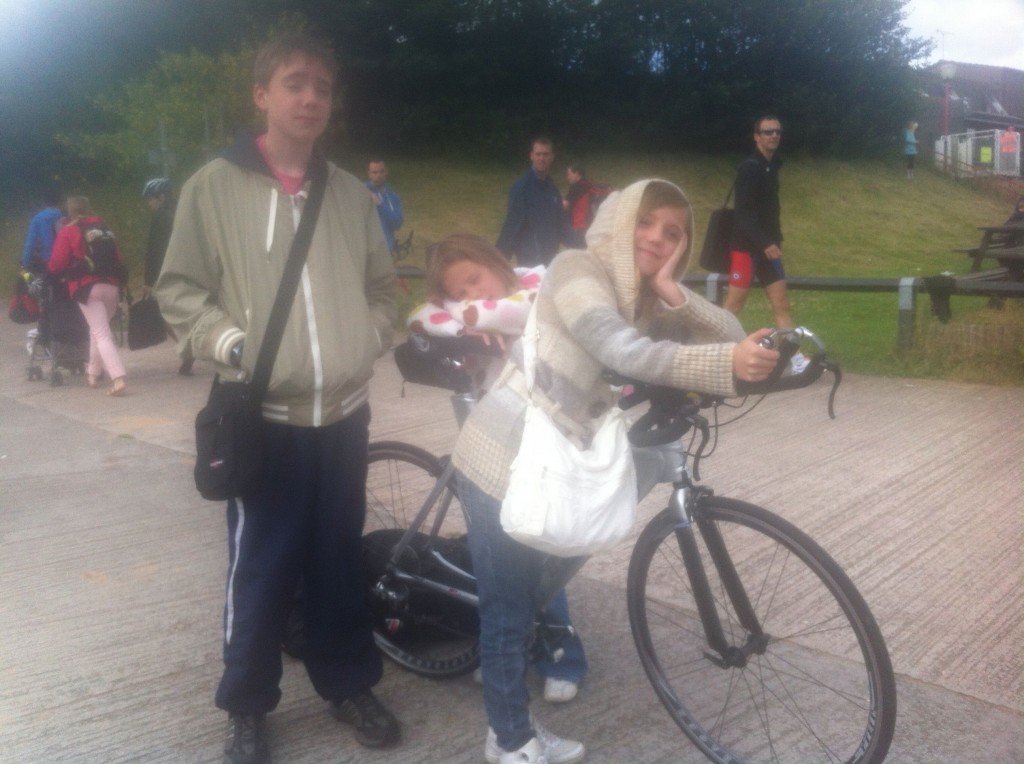 Nikki came with the dogs but managed to step out of the shot when I wanted to take this piccie! And for an added bonus, my Mum & Dad came to watch too!!
It was a very social event too. As we parked the car, I met Michael Barnett – @Smoker23athlete – who by coincidence followed us into the car park and who was doing his first triathlon. I saw him afterwards as well, and he got round but had a fall at the start of the run, so I hope he's not hurting too much!
Just before I went to drop the bike off at transition, someone came up to me and said "Hi, remember me?" I had to confess I didn't but it was Mark Stenson, who I went to school with and haven't seen since! He noticed my name on the participants list and introduced himself when he saw me! He now lives in Luxembourg! It was nice to catch up.
And Carl Fenton from Tickhill was also doing the race. I saw him before to wish him well and also briefly afterwards, and I think he was pleased with his time.
The race itself went very differently to how I thought it would. I was hoping to get below 1hr30′ but wasn't sure whether this would be possible because of the slightly longer bike leg. Normally, the bike leg is 20k on a Sprint Triathlon but this one was 23k long.
100m into the swim and I thought I'd be lucky to get home by lunchtime, never mind under 1hr30′. I just hate swimming in wetsuits. I might have gone off a bit hard but within a couple of minutes I couldnt get any breath. I ended up doing breaststroke for a while to try and get my breath back, and ironically, I wasn't actually that much slower doing this.
After a couple of hundred metres, I tried to go back to frontcrawl, and felt a little bit better. Unfortunately, I didn't look where I was going as much with my head in the water and ended up off route!
By the time I exited the water, I was convinced that I'd ruined any chance of getting under my target time. However, as I pressed the lap button on my watch going into transition, it said 15′ something. I couldn't believe it. I was hoping for anything under 17 mins and thought with the way the swim had gone, it would be twenty something!
Its only a small race so the transition area is small and close to the water, and so I was onto the bike in 1'08" – Nice!
I struggled a bit to get my feet into the shoes but it was only in the entrace drive to the Marina which has speed bumps and loose tarmac, so I don't think I lost too much time. Once out on the road for real, the bike felt good – really good. The first couple of miles of the route is over a motorway bridge and all the way round a roundabout, but by mile 4, its a nice long, flat straight. I averaged over 20 miles an hour through miles 4 to 9. As we turned to come home the last part of the ride was into the wind, which obviously slowed me, but the slippy position I was in on my TT bike still helped and I finished the ride in 44'19" at an average speed of 19.6 mph.
Transition 2 was only 38 secs – I said it was a small race! And it was out onto the run.
This turned out to be a very steady 3.1 miles, with each mile being 5 seconds under 8min/mile pace. In the past, I've tried to pick up the pace towards the end but it was pretty hot by the time I got to mile three, and I think this took it's toll on me.
Overall, I finished in 1hr26'05" – just under 4 mins below my target and a new Personal Best.
Well pleased!
Posted by Gareth