Stage 15 of the Tour de France with Skoda UK
July 23, 2012 | 10:06 pm
Well, so much for posting regularly from France. This is the first chance I've had to sit down in front of the computer!
What an incredible whirlwind of an adventure. We drove to Birmingham Airport on Sunday afternoon and flew to Paris where we connected with our flight to Toulouse. We were picked up by Skoda and from there on in treated like royalty. We stayed the first night at the Mercure Toulouse Gold de Seilh. Also staying here were RadioShackNissanTrek, Argos-Shimano and Europcar, which meant riders and team mechanics were everywhere to be seen.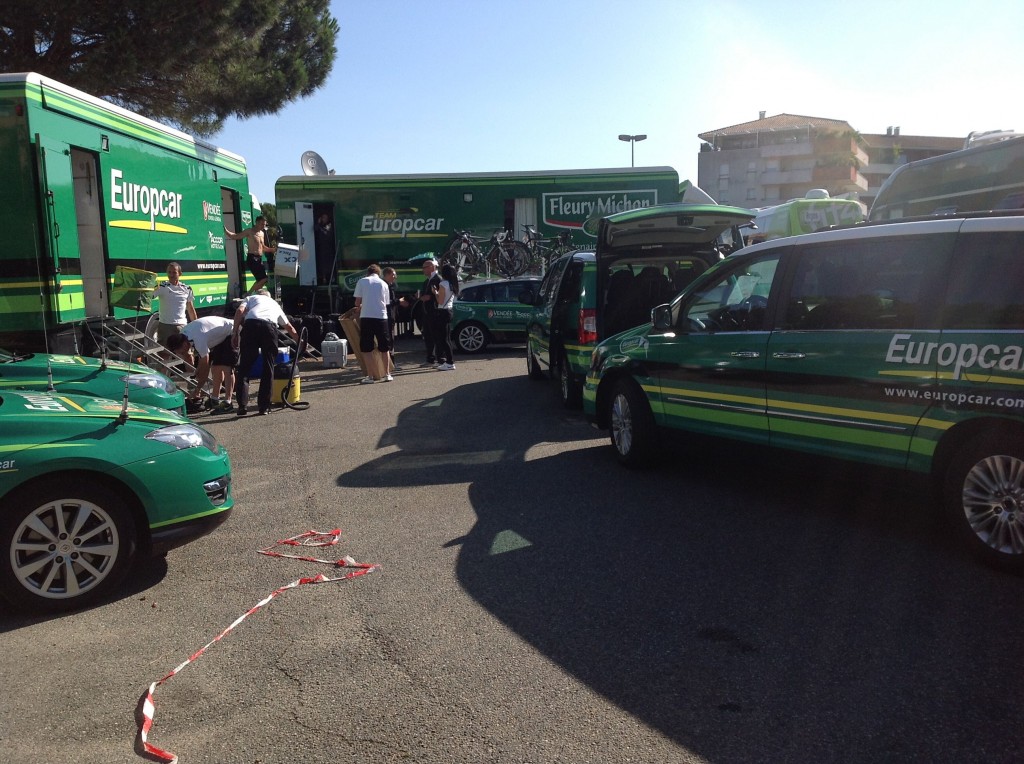 We got there about 8pm, got changed and went straight into dinner, to meet all the others who were there too. Some of them were competition winners like us. Others were sent by different parts of the Skoda company on dealer incentives, press junkets etc. Some however were former professional riders, there to act as hosts over the next 24 hours. These included Tim Harris and Stephen Roche.
After a late night – I sat talking till the small hours with three sports journalists from Dublin – we were up early the next morning to go for a bike ride with the former pro's including Stephen Roche himself!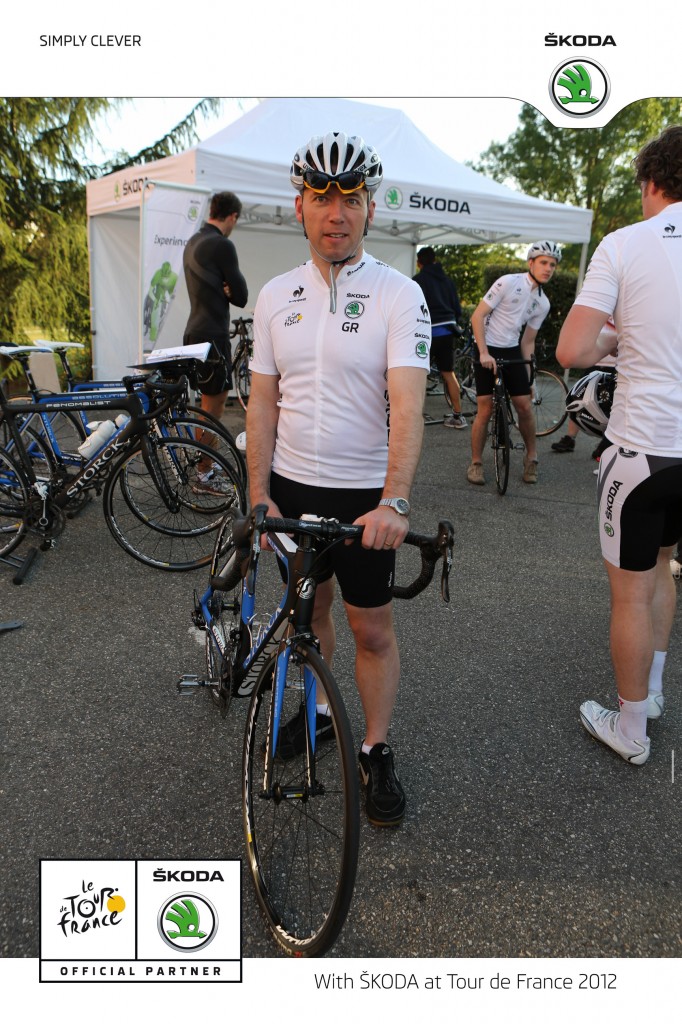 Sporting the new Skoda cycling top I was given the night before and riding a Storck full carbon bike worth £4,000, we had just under an hour riding out of Toulouse and through the fields of sunflowers. As a cyclist, this was just heaven! It was also a novelty. Whenever we visit France and I ride out into the country, its in August and the sunflowers have always gone over by then!
As well as being there to ride with us and tell stories over drinks, the former pro's act as our chauffeurs for the day, so they can give their unique insight whilst we're in the car and following the race – how cool is that?
Our driver was John Robertson, who founded former Pro Continental Team Barlowworld and currently owns & manages Team Bizhub Ladies Pro Cycling Team. As well as being an expert, he was very laid back and easy to talk to, which helped the day go so much better.
We headed off to the start of the race at 10am, in Samatan, about 30km from Toulouse. I've never been in a Skoda before, but these were top spec Skoda Superb's and something else. Full leather. Auto. 4×4. Not what I expected and very nice!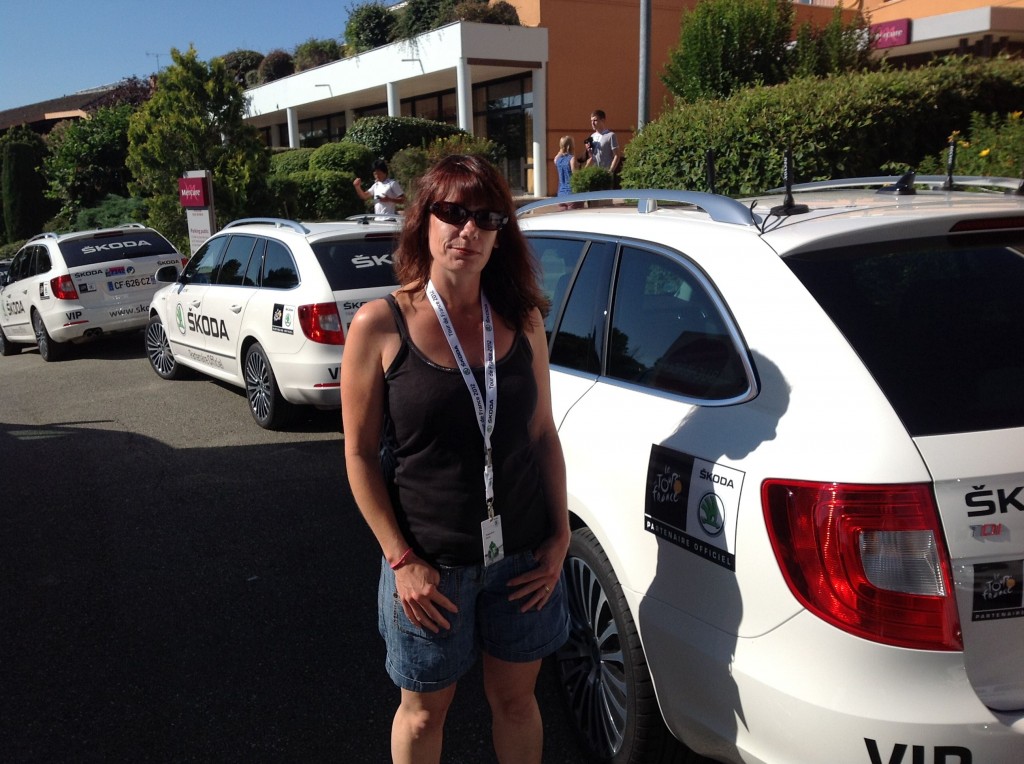 At Samatan, we had an hour to look around the VIP village and then went to where all the teams were. I wanted to see the TeamSky bus and hoped to see a few of the cyclists. We ended up seeing Chris Froome, Eddie Bosan Hagan, Richie Porte, Bernie Eisel and Mick Rogers. Well pleased!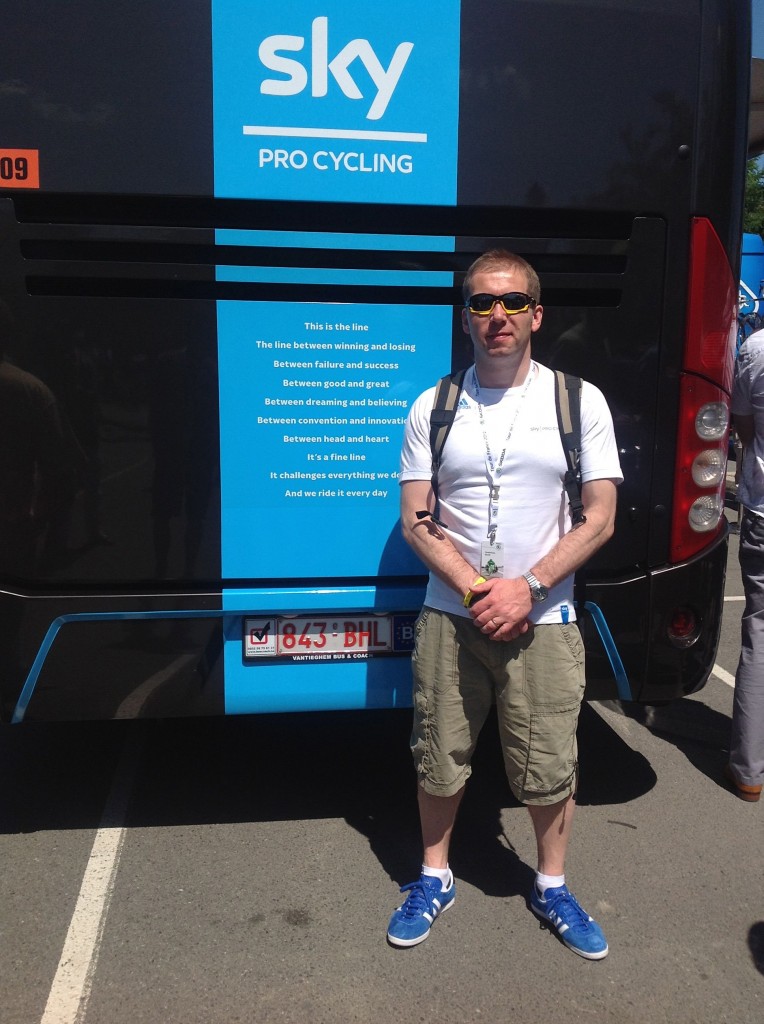 Unfortunately, we had to leave before Brad & Cav came off the bus but you can't have everything! the reason we couldn't hang around was the main focus of the day – we were to drive the full route of the stage, in advance of the peloton. Obviously the road is closed, so not many are allowed to do this, just race officials, journalists and a select few VIP – guess which ones we were!?!
We had to rush because you need to be ahead of the peloton before they leave. Get caught behind them and there's no overtaking!!!! So off we went, and at some pace too! John said that support and team vehicles have to stick to a speed limit of 80kph on the route – and he did. But some of the roads were tight and twisty and at that speed it was pretty breakneck, I can tell you. This only added to the excitement!
After about 30k's, we were dropped off at the side of the road and handed a glass of champagne each – we wanted for nothing throughout the whole trip! – then the cars sped off. They couldn't hang around or would get caught behind the peloton. We were then able to watch the riders speed by, and boy were they moving!!!
Now of course, we're stuck behind them!! But not for long. A quick walk around the corner and we get into one of these…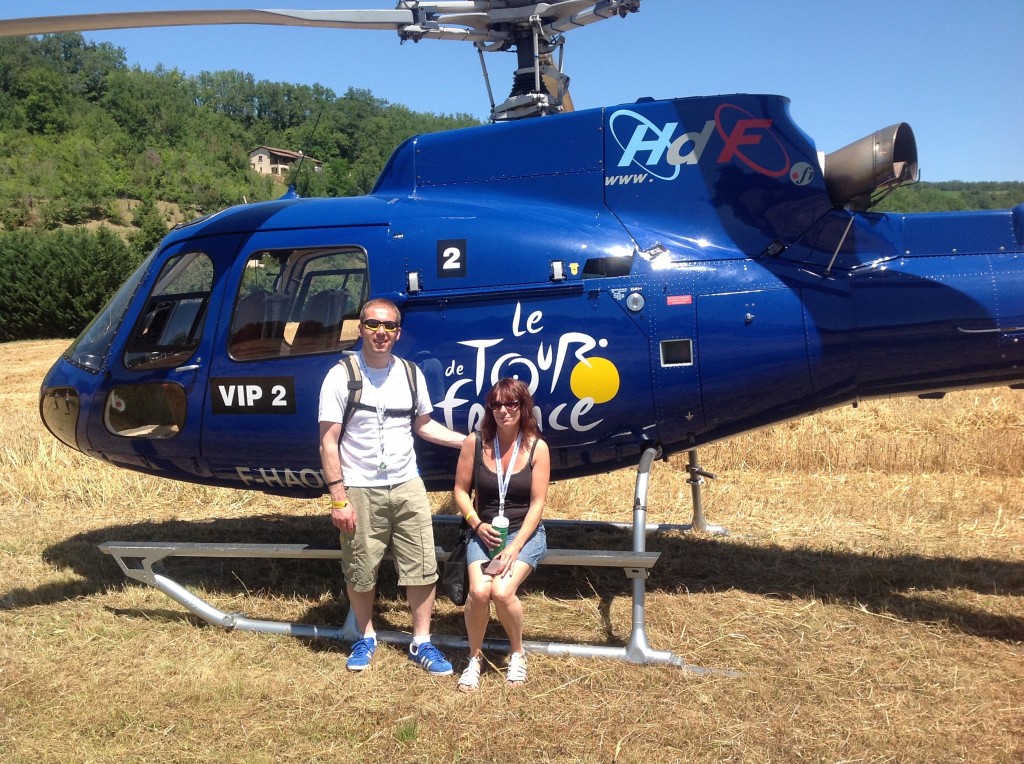 Minutes later and we are flying over the race, watching from above with the riders strung out along the road. We circled over the race four times in to total, before going on ahead to rejoin the cars, further down the road.
We then set off for the finish, stopping for a road side picnic along the way. The Foix-Gras was really good!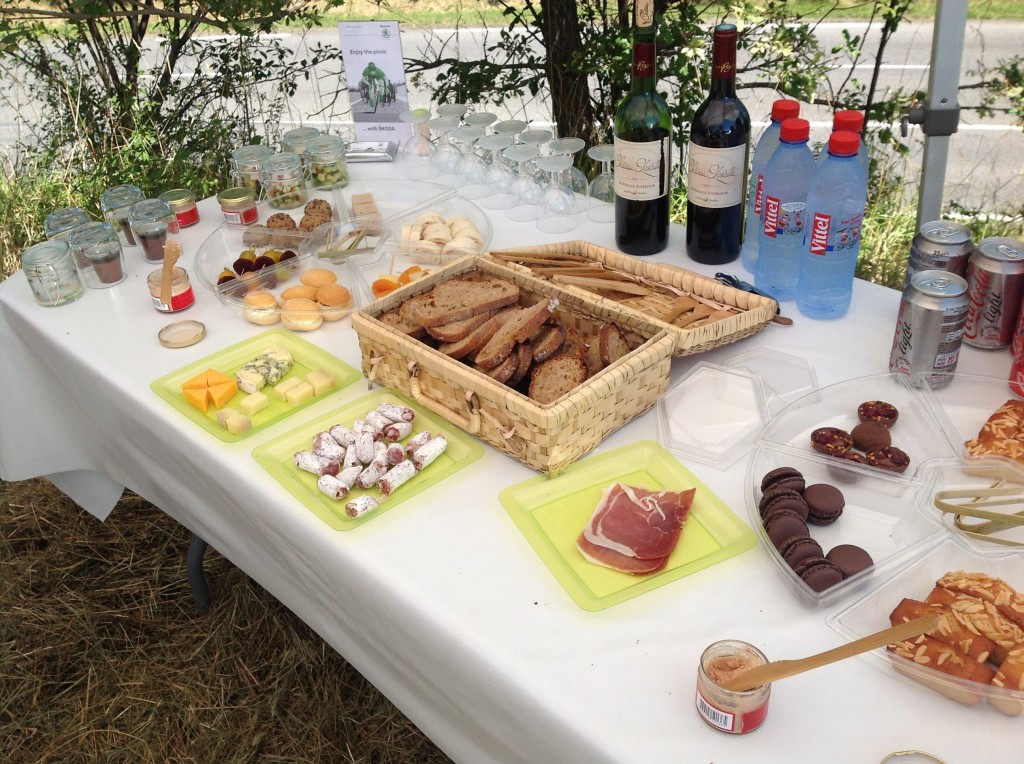 Once in the finish town of Pau, we got out of the cars and dashed over to the area we were to watch the finish from, known as Club Tour de France. This was a great vantage point over the finish line, made even better by yet another glass of champagne!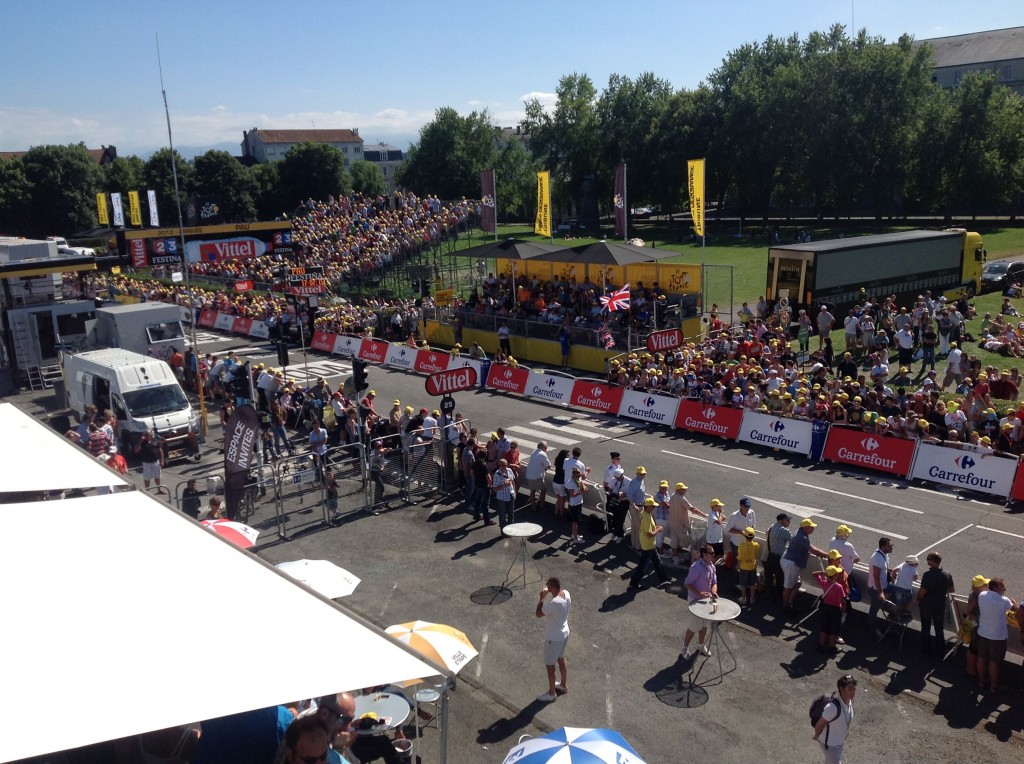 All along the route, we had been able to keep in touch with what was happening in the race behind us, as the car had a race radio receiver installed. Race radio is a service to all the teams and journalists that comes from the Race officials as they shout out rider positions, time gaps on break aways etc. From this we knew that a group of six riders had broken away and (in what is quite rare these days) they weren't chased down by the main peloton.
It wasn't long before the first of the riders came into view for us at the finish. Two riders contested the sprint finish with Frenchman Pierrick Fedrigo of Team FDJ-Bigmat beating Christian Vande Velde of Garmin-Sharp to the line. The rest came in pretty quickly behind them.
I managed to capture a lot of the day, including the riders coming in at the finish, in my video diary…
A huge thank you to Skoda UK for organising the trip and taking us out to the Tour. And also a special mention to Debbie Oakley, Events Manager at Skoda UK and her husband Rob. They accompanied us through the two days and couldn't do enough for us making sure we were looked after at all times, and were great company to boot.
I joked with them that its ruined the Tour for me now – I'll never be able to go again, as we'll never be able to match this trip.
All in all, a once in a lifetime, never to be repeated, money can't buy competition prize!!!
Now.. I wonder how I get on the trip again next year…..???
Posted by Gareth