Don't do as we did…
June 17, 2012 | 8:38 pm
Now you've all had a chance to see the DiabetesUK & JDRF UK Symptoms awareness video, I thought I'd share what happened to Sam in the months leading up to his diagnosis.
I wanted to wait until the video was out there because although we noticed some of the symptoms discussed in the video, Sam had others that aren't mentioned in the video. The producers wanted to keep the videos message simple, which I can understand. In such a short film, you can end up saying to much and simply confusing the viewer. Maybe that's whey we just never put two and two together, until he was really ill. Over the period of about 3 months, Sam changed a lot and we just kept putting it down to puberty.
As well as the excessive drinking, weeing & lethargy discussed in the video, Sam regularly got leg cramps in the night. had three separate vomiting episodes and lost about over a stone in weight. We thought the cramps were growing pains but with hindsight realised they were due to dehydration, as his body was trying to flush out his system.
The reason for all these symptoms was because Sam's immune system had started to attack his pancreas, and was destroying the cells that produce insulin. Our bodies use insulin to take up glucose from the blood and store it in either the liver, muscles or fat. Without insulin, the carbohydrates in the food we eat cannot be used by the body and just float around in the blood as glucose.
When Sam's body started destroying the cells that make insulin (the beta-cells), his body had to start looking elsewhere for glucose. Our muscles need the energy that comes from glucose to perform basic functions like breathing and walking, and Sam's started getting his from the stored fats in his body. When we eat too much carbohydrate, our bodies store the excess as fats. The reverse happens when you starve the body, and Sam's body was effectively being malnourished, because even though he was eating carbs, he couldn't use them without insulin.
With children who develop type 1 diabetes, there is an added complication, which affects them long before the malnourishment will.
If you've ever heard of or even been on the Atkins diet, you will know about Ketones. These are produced by the body, as a by-product, when it uses fats as energy. The Atkins diet kit comes with test strips that you wee on, and if they turn green, you are producing ketones. You get to this point by removing carbs from your diet, so the body has to start burning fats for energy. In a pre-diabetic child much the same happens but on a much greater scale. A few ketones won't harm you but ketones are acidic and too many are poisonous to the body. This is called Diabetic ketoacidosis (DKA for short) and it can be fatal.
By the time we found out Sam's body wanted all this water to try and flush out the ketones, he was DKA and very ill. Looking back, it's amazing to see how quickly all this happened.
This was Sam at the beginning of April 2010…
Sam was sick, vomiting for no reason, when we went to visit my mother-in-law at the beginning of April. He was fine the next morning so we put it down to over indulgence at the restaurant we visited the night before.
Five weeks later, we went to The Peak District for the weekend with the Scouts and here was the first time friends of mine commented… "Hasn't Sam grown"! We all thought he was loosing a bit of his "puppy" fat as he started to grow skywards….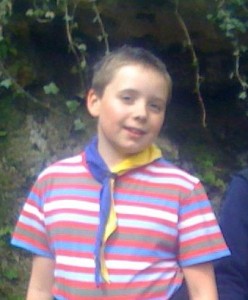 At a camping holiday a few weeks later on 25th June, more friends commented on how he'd grown. We noticed it too of course. With a few extra cm's height and less weight on him, he looked a lot more mature.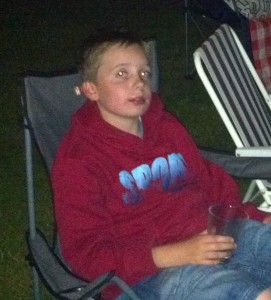 As I write this, I remember that he was sick in his sleeping bag one of the nights we were there. He was fine the next morning though, so I think once again, we just put it down to something he ate.
He went camping with the Scouts a couple of weeks later and when we picked him up, he looked very tired. The leaders commented on how tired he'd been over the weekend and hadn't got as involved with all the activities as usual. Again, we just put it down to something… In this case, the thought that he would have been awake all night talking in the tent with his friends as usual. There's always a reason you can put these things down to, isn't there!
Talking about this with my parents, nearly two years later, my mum mentioned that Nikki had commented once when we were all away together. "Sam is just not himself, but I don't know what it is". After our experience, I would say to anyone. If you aren't sure, trust your instincts as a parent. Take them to the doctors. A simple blood glucose test can be done by a nurse in any surgery in seconds.
Less than six weeks later and Sam was in hospital…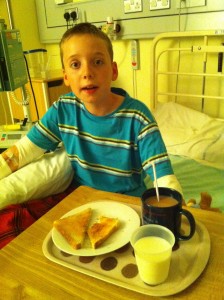 He spent five days in hospital, partly as they got him well again on a couple of drips, but also as they taught us to start caring for a type 1 child. Whilst we were there, I recall one of the nurses trying to reassure us. "Don't worry" she said, "This will be the sickest he'll ever be with diabetes" referring to his DKA.
And so far, that has proved to be the case. We went on holiday to France four weeks later, and the turnaround in him was staggering…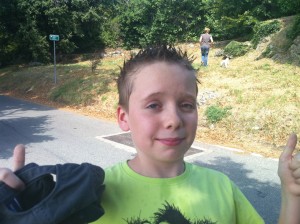 By the end of August 2010 he was almost back to normal.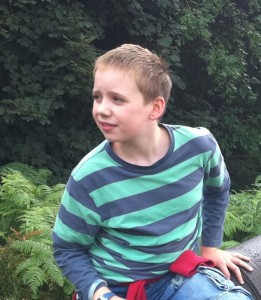 As I write this and we approach his second 'D'-versary, he is managing remarkably well. His last four quarterly HbA1c tests have all been 6.something with the most recent his lowest to date at 6.1%. He has put all his weight back on and more, and is one of the tallest in his class at school.
This is most surprising as his father is only 5 ft 9″!!!
Posted by Gareth