Curesam is proud to present…
May 29, 2012 | 10:59 am
I haven't been banging on about it much…. (that's a lie!!) but I am doing the London Triathlon this September, in aid of JDRF UK – the Juvenile Diabetes Research Foundation.
I'm not doing it for fun, you know….!!! Well, actually, I am! I'm really looking forward to it, and I'm loving the training too.
But let's pretend for a minute that I'm not enjoying it, and that each day is a real struggle. I need you to think that I'm making a massive sacrifice so that when I ask you to sponsor me, you'll feel really sorry for me and hand over loads of cash….
OK, it's not going to work is it…? I'm not going to fool anyone!
So how about a new tack? Instead of making Nikki & the kids freeze to death in the lobby of ASDA's whilst I sit on my bike peddling all day, this year's fund raising is going to be fun! A friend of mine had a birthday party last year and used it to raise some funds for JDRF. As we all enjoyed the party so much, we thought we'd repeat the exercise….
So Curesam is proud to present….. *Drum roll* ………
Saint Harlot – live at the Millstone in Tickhill. Saturday 6th October 2012 – 8 till late!!!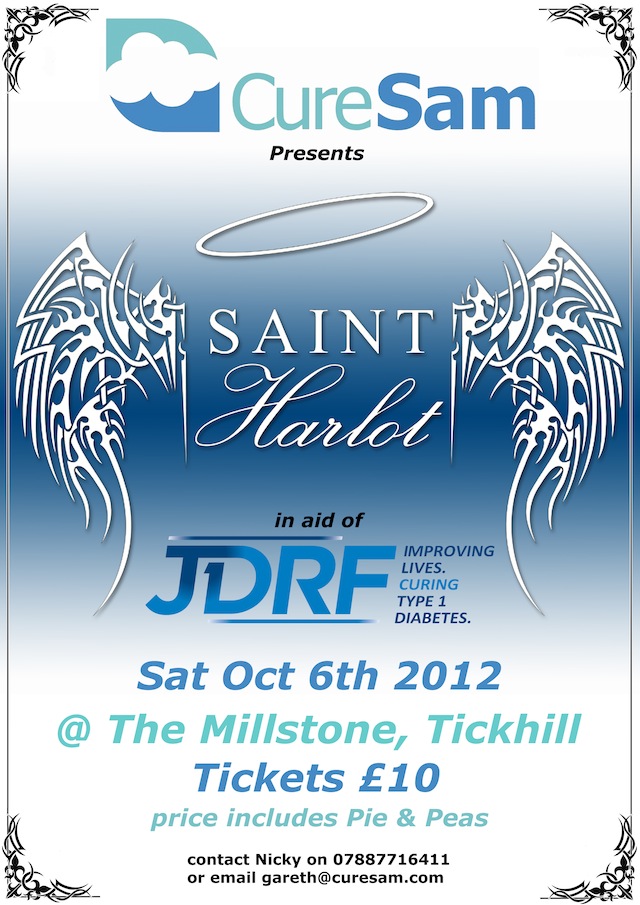 Saint Harlot are the best rock and pop covers band you're gonna see in a long time. Hailing from Doncaster, their set list ranges from AC/DC to Lady GaGa, with some original material thrown in. They are going from strength to strength and you'll be able to say you saw them before they were really big!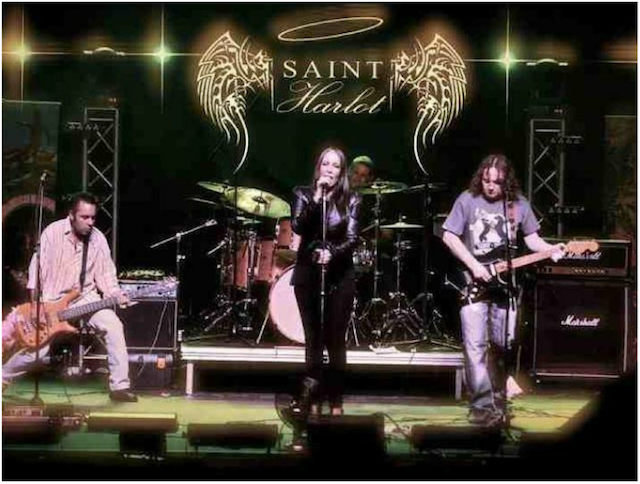 For the small price of £10 per ticket (am I over-selling this..? Nah, thought not!) you also get pie & peas. As if that wasn't enough… they also sell John Smiths at the Millstone – talk about covering all bases…..!! Food, music and ale! How can you resist?
Tickets are available from Nikki or me, so give us a call or email me before they all go.
Please note:
1) Beer is not included in the price! You are expected to pay for your own, and we'd be grateful if you could drink a skinful…!!! The Millstone have done us a big favour on the room hire, so to keep them happy, we need you to drink….!! (Can't imagine that will be a problem!)
2) The pie and peas are being provided by Eatons the Butchers! The vegetarian option will be No pie, just peas!! But we can't promise that the peas will have been prepared in a meat free kitchen. Let's be honest, they'll have been prepared in a meat FULL kitchen – and in my opinion, they'll be all the better for it! If you do insist on not eating meat, I'll buy you a bag of Bacon Frazzles instead!!
Posted by Gareth